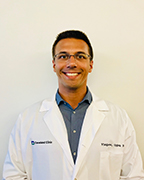 Biography
Ogi Visnjevac, MD, is an Interventional Pain Management Specialist at Cleveland Clinic Canada. Interventional pain management specialists use x-ray (fluoroscopy) or ultrasound to guide small needles into deep anatomic structures to identify which of those structures are responsible for each patient's pain generation in order to establish a treatment plan. Treatment plans may involve a reduction in inflammation, regenerative therapies, or nerve-ablative techniques, in addition to collaboration with other specialties in a multidisciplinary capacity.
Dr. Visnjevac has an extensive background in biologic therapy techniques, ultrasound-based techniques, visceral pain management and cancer pain interventions along with management of common musculoskeletal and neuropathic pain states.
Born in Sarajevo and raised in Toronto, Dr. Visnjevac relocated to St. George's University in Grenada to obtain his Doctor of Medicine. He went on to complete his residency in anesthesiology in New York before finishing his fellowship in pain management at Cleveland Clinic in Ohio. During his time at Cleveland Clinic, he was awarded the Caregiver Award for his compassionate clinical care.
Dr. Visnjevac is passionate about improving the quality of his patients' lives. He is particularly interested in epidural steroid injections for acute sciatica. Patients often see a profound reduction in sciatica symptoms if they receive treatment in the first few weeks or months of symptom onset.
A dedicated researcher, Dr. Visnjevac has been published in numerous medical books and journals and presented his findings at conferences across North America. He enjoys working in the community in a primary care setting and truly enjoys building a rapport with his patients. Dr. Visnjevac founded The Central America Relief Project, where he acted as president for ten years. He oversaw donations of medical supplies to Guatemala and El Salvador and managed Canadian volunteers.
Dr. Visnjevac enjoys teaching and inspiring medical students, residents, and other interested students. He regularly gives lectures and teaches clinical workshops and clinical bedside education, which he feels is the most rewarding of the three. Dr. Visnjevac currently holds the role of Adjunct Clinical Assistant Professor at McMaster University's Department of Anesthesiology and Pain Management.
When he's not seeing patients, Dr. Visnjevac loves spending time with his wife and kids. One of their favourite destinations is the Toronto Zoo.
Education/Training
Fellowship

Pain Management
Cleveland Clinic
Cleveland, OH

Residency

Anesthesiology
State University of New York: University at Buffalo
Buffalo, NY

Doctor of Medicine

University of Western Ontario
Grenada, West Indies

Bachelor of Science (Honours)

University of Western Ontario
Plant Sciences
London, ON
Certifications
Fellow of the Royal College of Physicians of Canada (FRCPC), Anesthesiology
Diplomate of the American Board of Anesthesiology (D.ABA), Anesthesiology
Diplomate of the American Board of Anesthesiology (D.ABA), Pain Medicine Subspecialty Board Provider
Advanced cardiac life support (ACLS)
Specialty Interests
At Cleveland Clinic Canada, Dr. Visnjevac maintains a focused practice treating musculoskeletal and spine-related pain only, encompassing the following list of treated conditions:
Arthritis
Back Pain
Back Pain in Athletes
Bursitis
Cervical and Lumbar Degenerative Disc Disease
Cervicogenic Headache
Chronic Back Pain
Chronic Neck Pain
Chronic Myofascial Pain
Facet Joint Syndrome (cervical, thoracic, or lumbar)
Herniated Discs
Knee Injuries
Knee Pain
Musculoskeletal Pain
Neck Pain
Painful Joints
Pars Fracture
Radiculitis
Radiculopathy
Regenerative Medicine Techniques
Sciatica (acute or chronic)
Spine Pain
Spondylitis
Spondylolisthesis
Spondylolysis
Spondylosis
Spinal Stenosis
Whiplash Injury
Common Procedures Performed (All Fluroscopic or Ultrasound Guided)
Bursa or Joint injections (diagnostic local anesthetic, corticosteroid, or Platelet Rich Plasma)
Cooled (Coolief) Radiofrequency (RF) Ablation for chronic or inoperable knee pain
Epidural Steroid Injections (interlaminar or transforaminal)
Facet Joint Injections (cervical, thoracic, or lumbar)
Medial Branch Blocks (the nerves that supply sensory innervation to the facet joints)
Radiofrequency (RF) Ablation (cervical, thoracic, lumbar, or sacral)
Platelet Rich Plasma Joint Injections
Professional Affiliations & Memberships
American Society of Regional Anesthesia & Pain Medicine (ASRA)
Canadian Pain Society (CPS): Interventional Pain Special Interest Group
American Society of Interventional Pain Physicians (ASIPP)
International Association for the Study of Pain (IASP)