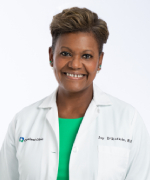 Biography
Joy D'Rozario, RN, brings over 15 years of nursing experience to Cleveland Clinic Canada. She is an integral member of a multidisciplinary team focused on delivering preventive health care. In her role as an Executive Health nurse, Ms. D'Rozario performs the initial clinical assessment, provides health education and acts as the main contact for the patient throughout the year.
Born in Manchester, England, eventually making Toronto her home, she graduated from the Registered Nursing Program with a nursing diploma from Centennial College of Applied Arts and Technology in Toronto. She then completed her clinical training at several Toronto area hospitals including The Scarborough Hospital, Sunnybrook Health Sciences Centre, Providence Healthcare and Rouge Valley Health System.
Working as a primary health care nurse, Ms. D'Rozario has developed a strong background in clinical care, health promotion and disease prevention. Committed to advancing the delivery of healthcare in Canada, Ms. D'Rozario trains and mentors nursing students and colleagues as a Preceptor. She is also an active member of several professional organizations, including the Ontario Nurses Association.
During her career, Ms. D'Rozario has been an active member on various community coalitions and committees such as The Works, Needle Exchange Program, Scarborough Breast Health Community Action Project, Joint Health and Safety Committee, Influenza Community Clinics and Point of Care Services. She also participated in various community health fairs and Public Health initiatives.
Outside of nursing, Ms. D'Rozario enjoys creating culinary masterpieces and travelling to new places.
Education/Training
Registered Nurse

Centennial College of Applied Arts and Technology
Registered Nursing Program
Toronto, ON
Specialty Interests
Primary Health Care and General Medicine
Professional Memberships
Ontario Nurses Association
Canadian Nurses Association
College of Nurses of Ontario