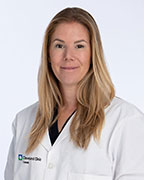 Biography
Megan Grantham, DCh, is a Registered Chiropodist with Cleveland Clinic Canada's Sports Health team.
A Chiropodist is a primary healthcare provider educated exclusively in the assessment of the foot as well as the treatment and prevention of diseases, disorders, or dysfunctions of the foot by therapeutic, orthotic or palliative means. Chiropodists provide patients with complete nail and skin care and assess the biomechanics of the feet and lower limbs to prescribe and fit patients with custom foot orthotics. Chiropodists have an extensive knowledge and play a key role in the prevention and management of diabetic foot conditions.
Raised in Scotland, Ontario, Ms. Grantham went on to earn her Bachelor of Science specializing in Kinesiology from the University of Waterloo. Further developing her education in health sciences, she completed her Advanced Diploma in Chiropody at the Michener Institute for Applied Health Sciences in Toronto. This included an internship at Women's College Hospital in the wound care centre. Through the Ontario Society of Chiropodists, Ms. Grantham has taken an additional course in soft tissue surgeries and procedures. When she's not at Cleveland Clinic Canada, Ms. Grantham works at Omni Foot Clinic in Burlington, Ontario.
In her spare time, she enjoys outdoor activities, traveling and cooking.
Education/Training
Advanced Diploma in Chiropody

Michener Institute of Applied Health Sciences
Toronto, ON
Bachelor of Sciences

University of Waterloo
Department of Kinesiology
Waterloo, ON
Professional Memberships
SOADI - Southern Ontario Aboriginal Diabetes Initiative
College of Chiropodist of Ontario
Ontario Society of Chiropodists
Canadian Federation of Podiatric Medicine