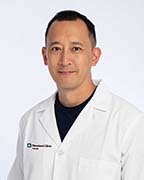 Biography
Robert Lee is a Registered Massage Therapist at Cleveland Clinic Canada. Mr. Lee has a strong interest in sports massage and injury rehabilitation, and believes in a whole body/whole person approach to uncovering deeper inter-relationships of physical dysfunction.
Mr. Lee first obtained his Diploma in Sports Injury Therapy and Massage Therapy from Trillum College before going on to pursue his Diploma in Osteopathy Manual Practice from the Canadian College of Osteopathy in Toronto. He has obtained additional certification in a variety of manual techniques, including deep tissue and sports massage, myofascial and soft tissue release, visceral manipulation and cranial osteopathic techniques.
Passionate about the world of sports, Mr. Lee acts as a Massage Therapist for Athletics Canada. He has provided clinical support for numerous professional competitions around the world, including the Paralympic Games in Rio de Janeiro, Brazil; the 2016 IPC World Championships in Doha, Qatar; the 2015 Commonwealth Games in Glasgow, Scotland; the 2014 IAAF World Indoor Championships in Sopot, Poland; and the 2014 IAAF World Relays in Nassau, Bahamas. Previously, he held the role of Team Therapist for the Centennial College Men's Basketball team.
When he's not seeing patients, Mr. Lee enjoys spending time outdoors, running, hiking and playing tennis, as well as spending time with his family. He is also an avid Toronto sports fan and loves to cheer on the Raptors, Leafs and Jays.
Education/Training
Diploma

Canadian College of Osteopathy
Osteopathy Manual Practice
Current Study – 4th Year
Toronto, ON
Diploma

Trillium College
Sports Injury Therapy and Massage Therapy
Burlington, ON
Certifications
Deep tissue / sports massage
Myofascial / soft tissue release
Visceral manipulation
Cranial osteopathic techniques
Specialty Interests
Sports massage
Injury rehabilitation
Professional Memberships
College of Massage Therapists of Ontario