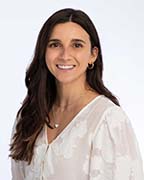 Biography
Stefanie Di Tella is a Registered Dietitian at Cleveland Clinic Canada. Ms. Di Tella has experience providing nutrition counselling for a variety of clinical areas, including long-term care, pediatrics, private health, community health and diabetes and endocrinology. She has a strong interest in sports nutrition, digestive health, and polycystic ovary syndrome (PCOS).
Ms. Di Tella first obtained her Bachelor of Science in Nutrition and Dietetics from Brescia University College at Western University. She went on to complete her Master of Science in Food and Nutrition from Brescia University College. She has since completed additional certification in physiology for sport nutrition, population and public health, critical care nutrition, vitamin and mineral supplementation, sport supplementation, and sport nutrition.
Passionate about sports and athletics, Ms. Di Tella was a member of Western Women's Varsity Soccer team and was named as an OUA All-Star and 3x Academic All-Canadian. She has held numerous volunteer roles, including a Sport Nutrition Volunteer at the Sport Institute of Ontario, a Nutrition Intern at Little Hands Cooking Camp and a Nutrition Volunteer at Loblaw Companies. She is dedicated to working with her patients to develop nutrition plans that are personalized to their lifestyles and helping them to achieve their health goals.
When she's not seeing patients, Ms. Di Tella enjoys staying active with soccer, strength training and hiking with her dog.
Education/Training
Master of Science


Brescia University College (Western University)
Food and Nutrition
London, ON
Bachelor of Science

Brescia University College (Western University)
Nutrition and Dietetics
London, ON
Certifications
Physiology for Sport Nutrition (Dietitians of Canada)
Population and Public Health (Dietitians of Canada)
Critical Care Nutrition (Dietitians of Canada)
Vitamins & Minerals Supplementation (Dietitians of Canada)
Sport Supplementation (Dietitians of Canada)
Two-Brain Nutrition Coach Certification
Eat2Win – Sport Nutrition Certification
Motivational Interviewing (The Monarch System)
Specialty Interests
Sports nutrition
Digestive health
Polycystic ovary syndrome (PCOS)
Professional Memberships
Dietitians of Canada
Dietitians of Canada Sport-Nutrition Networks
College of Dietitians of Ontario
Collegiate and Professional Sports Dietitians Association
RD2BE Mentorship Program
Professional Mentoring Program - Brescia University College