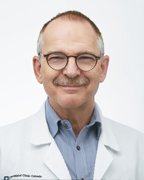 Biography
Darrell Ogilvie-Harris, MD, is an Orthopaedic Surgeon at Cleveland Clinic Canada. He is particularly interested in sports injuries, including tendon and joint and ligament surgery, as well as knee, shoulder, ankle and elbow reconstruction. He is a Professor of Orthopedic Surgery at the University of Toronto.
Born and raised in Liverpool, England, Dr. Ogilvie completed his Bachelor of Science at the University of Liverpool. He relocated to Toronto to complete his masters in Medical Science from the University of Toronto, followed by his fellowship in orthopaedics with the Royal College of Surgeons.
Dr. Ogilvie-Harris has been a staff orthopedic surgeon since 1982 at Toronto Western Hospital, where he held the job of Chief of Orthopaedic Surgery for 10 years. He has held other academic and administrative posts, such as director of the residency program and head of the trauma committee. He co-founded the Sports Medicine Specialists, a renowned sports clinic that ran for 26 years and is now part of Cleveland Clinic Canada.
Dr. Ogilvie-Harris has been active in research, having published over one hundred scientific papers, plus many book chapters. He has lectured widely in North America, Europe, Asia, Australia and the Middle East. He has focused on preventive programs as well as rehabilitation. He has particular expertise in arthroscopy and arthroscopic reconstruction- which includes repairing of the anterior cruciate ligaments of the knee or rotator cuff tears of the shoulder. He was a pioneer of the use of arthroscopy for smaller joints such as the ankle, elbow and shoulder.
Dr. Ogilvie-Harris's current research projects are focused on cartilage regeneration. This may involve preventive training, surgical removal of damaged areas, joint reconstruction and more recently cartilage transplantation and the use of stem cells in early arthritis. Cartilage transplantation is an area of rapidly growing knowledge, with the ability of the surgeon to move healthy cartilage to damaged areas in the same patient. This allows living cartilage from the patient to replace the old damaged areas. He was part of the group at University Health Network that raised $35 million for stem cell research and a "Cure for Osteoarthritis."
Active in the field of sports medicine, he served as team physician for Toronto Maple Leafs hockey team for fifteen years. He has provided medical care for the National Ballet of Canada for the past 20 years and has treated and advised many of Canada's professional and Olympic athletes.
He is currently the Program Director of the University of Toronto Sports Medicine Program (UTOSM) based out of Women's College Hospital. The goals are to build a leading centre for teaching, research and clinical activity across the University of Toronto teaching hospitals.
When he is not seeing patients, Dr. Ogilvie-Harris loves to spend time with his wife Louise. He also enjoys oil painting, bronze sculptures, hiking and photography.
Education/Training
Residency and Fellowship

Royal College of Surgeons
Orthopaedic Surgery
University of Toronto
Toronto, ON
Masters Medical Science

University of Toronto
Medical Science
Toronto, ON
Medical Degree M.B.,Ch.B, (Hons.)

University of Liverpool
Liverpool, England
Bachelor of Science (Honours)

University of Liverpool
Liverpool, England
Certifications
Specialty Interests
Sports injuries including:
Tendon
Joint and ligament surgery
Ankle and elbow reconstruction
Professional Memberships
Ontario Medical Association
Ontario Orthopedic Association