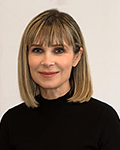 Jo-Ann DeLuca is a Registered Psychotherapist at Cleveland Clinic Canada. Ms. DeLuca has experience treating a wide range of issues including anxiety and stress management, depression, mood disorders and emotion regulation, self-growth and self-esteem, trauma psychology and post-traumatic stress disorder. Additionally, Ms. DeLuca has a strong corporate background, having spent over 20 years holding senior leadership positions in various industries.
Ms. DeLuca obtained her Bachelor of Arts in Psychology from Concordia University in Quebec and her Master of Psychology from Adler Graduate Professional School in Toronto. She completed an internship at the Centre for Interpersonal Relationships and a second internship at the Toronto Poly Clinic, where she provided independent psychological evaluations and assessments for individuals who had been involved in motor vehicle accidents.
Ms. DeLuca is dedicated to lifelong learning, and has completed additional training in treatment methods such as solution-focused therapy, cognitive-behavioural therapy, trauma informed care, dialectical behavioural therapy, and integrative therapy. In her practice, she most commonly helps to manage and treat anxiety, stress, depression, mood, grief, trauma, workplace challenges and burn out.
She has a strong interest in positive psychology and the science of well-being in life and in the workplace. Ms. DeLuca also has an interest in helping patients thrive in the workplace and in interpersonal relationships. She believes in the importance of providing integrative therapy and treatments based on individual patient's needs and goals. Ms. DeLuca's theoretical preference is modern psychodynamic as she believes this approach leads to more permanent and meaningful changes in patients' lives.
When she is not treating patients, Ms. DeLuca enjoys a variety of activities in the great outdoors and spending time with her family
Education/Training
Masters

Adler Professional Graduate School
Psychology
Toronto, ON


Bachelor of Arts


Concordia University
Psychology
Montreal, QC

Specialty Interests
Positive psychology and the science of well-being in life and in the workplace
Trauma-informed care
Self and relationship challenges resulting from trauma
Anxiety
Depression and mood
Interpersonal relationships
Career and workplace
Certifications
Graduate Certificate in Multi-Modality Psychotherapy Techniques - Adler Graduation Professional School
Gottman Method Couples Therapy Level 1 Certificate - Gottman Institute
Professional Memberships
College of Registered Psychotherapists of Ontario
Canadian Psychological Association
American Psychological Association