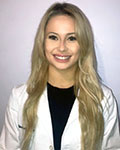 Biography
Vanessa Cattaruzza is Registered Nurse at Cleveland Clinic Canada. Ms. Cattaruzza has in-depth experience managing the care of complex patients in a hospital setting, including cardiac cardiology, respiratory illness and dialysis care. She has a particular interest in internal medicine, cardiac care, mental health and pediatrics.
Ms. Cattaruzza obtained her Bachelor of Science in Nursing from Ryerson University. She has since completed additional certification in Applied Suicide Intervention Training (ASIST) and Basic Cardiac Life Support (BCLS). She has experience with IV initiation and phlebotomy, IV therapy, oxygen therapy, central line care, wound care, chest tubes, nasogastric/gastrointestinal tubes, catheter care, tracheostomy care, telemetry, and blood transfusions. She is dedicated to connecting with her patients by providing compassionate care, advocating for their health needs and establishing strong therapeutic relationships based on trust and empathy.
Ms. Cattaruzza has held leadership roles as a charge nurse and has mentored both nursing students and new nursing colleagues in her field. She previously worked with The Independence Program, a Holland Bloorview community program that focuses on supporting young adults with physical and/or cognitive disabilities who are living away from home. Ms. Cattaruzza was honoured with the Caring and Partnership Award and the Patient and Family Centered Care Award in recognition of her positive attitude, enthusiasm and strengths as a team player and health care professional.
When she's not treating patients, Ms. Cattaruzza enjoys spending time with her large family, kickboxing, travelling, cooking and exploring new places.
Education/Training
Bachelor of Science

Ryerson University
Nursing
Toronto, ON
Certifications
Basic Cardiac Life Support (BCLS) - Canadian Red Cross
Applied Suicide Intervention Training (ASIST)
Specialty Interests
Internal medicine
Cardiac care
Mental health
Pediatrics
Professional Memberships
College of Nurses of Ontario
Registered Nurses Association of Ontario