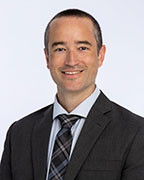 Biography
Andrew Morgan, MD, is a General and Forensic Psychiatrist at Cleveland Clinic Canada. Dr. Morgan has a longstanding interest in the intersection between mental health and the law. In his practice, he commonly treats patients suffering from mood, anxiety, and trauma-related conditions, as well as schizophrenia.
Dr. Morgan obtained his Bachelor of Science in Microbiology and Immunology from McGill University in Montreal. He went on to complete his Doctor of Medicine at the University of British Columbia, followed by a Residency in Psychiatry and a Residency in Forensic Psychiatry, both at the University of Toronto.
Actively involved in the mental health community, he acts as a Lecturer for the Division of Forensic Psychiatry at the University of Toronto, and provides supervision for on-call residents at Michael Garron Hospital (formerly Toronto East General Hospital), and teaches the forensic psychiatry review for senior psychiatry residents. He also teaches PGY 1 Psychiatry Residents at the Homewood Health Centre.
For the majority of his career, Dr. Morgan has focused on the rehabilitation of people who were found not criminally responsible for a range of offences. His research has been published in numerous medical journals, including the Journal of Interpersonal Violence, Law and Human Behavior, Behavioral Sciences & the Law, the Canadian Journal of Psychiatry, and the BC Medical Journal.
When he's not seeing patients, Dr. Morgan enjoys travelling, attending Blue Jays games and cooking with his smoker.
Education/Training
Residency

University of Toronto
Forensic Psychiatry
Toronto, ON

Residency

University of Toronto
Psychiatry
Toronto, ON
Doctor of Medicine

University of British Columbia
Vancouver, BC
Bachelor of Science

McGill University
Microbiology and Immunology
Montreal, QC
Specialty Interests
Mental health and law
Schizophrenia
Mood, anxiety, and trauma-related conditions
Professional Memberships
College of Physicians and Surgeons of Ontario
College of Physicians and Surgeons of Prince Edward Island
Ontario Medical Association
Canadian Academy of Psychiatry and the Law