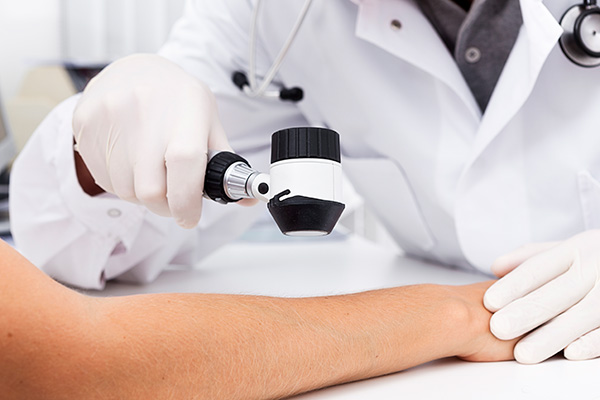 At Cleveland Clinic Canada, we are committed to providing the highest quality of care to our patients and their skin.
Each decade of a person's life brings new challenges to both patients and their dermatologists. Factors such as sun exposure, hormonal status, genetics and coexisting internal disorders are important determinants of how your skin, hair and nails will weather the passage of time. Proper care and treatment is essential to maintaining the health and vitality of your skin.
Our dermatology team offer patients a wide range of dermatologic and aesthetic services. We provide expertise in the diagnosis and management of a full spectrum of dermatologic conditions including acne, eczema, psoriasis, precancerous and cancerous lesions of the skin. We also offer cosmetic dermatology and anti-aging procedures, including cosmetic removal of benign skin lesions, injections for the treatment of wrinkles and volume loss.
This service is ideal for any individual who has a medical concern or condition involving their skin, hair or nails.
What Do We Treat?
Acanthosis Nigricans
Acne
Actinic Keratosis
Aging or Painful Skin
Alopecia Areata
Birthmarks
Blisters
Canker Sores
Cosmetic Dermatology
Cosmetics
Cysts
Dermatitis
Dermatitis - Contact
Diabetes
Dry Skin/Itchy Skin
Eczema
Frostbite
Fungal Infections
Hair Loss
Hives (Urticaria)
Hyperpigmentation/ Hypopigmentation
Melanoma
Moles
Molluscum Contagiosum
Onychomycosis - Toenail Fungus
Perioral Dermatitis
Psoriasis
Rashes/Red Skin
Ringworm
Rosacea (Adult Acne)
Shingles (Varicella-Zoster Virus)
Skin Cancer
Vitiligo
Warts
Wrinkles
Are You Covered?
Dermatology appointments are covered by OHIP. Our dermatologists treat adult patients only and appointments require a physician referral.
Cosmetic dermatology procedures, including injections and the treatment of wrinkles and dermal fillers, are not covered by OHIP and require a physician referral.
Staff
Locations
Cleveland Clinic Canada Downtown
181 Bay Street
Brookfield Place: 30th Floor
Toronto, Ontario M5J 2T3