Overview
Overview
Our comprehensive Executive Health program is tailored to the individual whose busy schedule demands a streamlined yet high-quality experience. The goals of our assessments are to reduce health risk factors and detect and treat diseases in their earliest stages, before major problems develop. We also emphasize the power of prevention through fitness, nutrition and psychological consultation.
We have transformed the traditional physical from a one-sided data-gathering exam into an integrated, collaborative, head-to-toe evaluation by top medical and wellness professionals. During your six-hour day of care, you will meet with various providers, including a physician, nurse, dietitian, exercise physiologist and psychologist.
The day has been designed to provide you ample time with our physicians and wellness clinicians to encourage discussion and learning about your health. By the end of the day, you'll feel more confident with your health status and know the action steps you need to take to achieve better health and wellness.
After your assessment, you will be receiving access to our online medical record portal – MyChart – where you will receive your detailed medical report from your Executive Health team. These will outline your current health status, as well as provide actionable recommendations to improve your health.
Throughout the year you are be able to contact your nurse to ask any questions related to your assessment, as well as book an urgent care appointment with our nurse practitioner if you aren't feeling well. Our urgent care service addresses non-emergency medical issues that may arises during the year such as a sore throat, ear infection or common cold.
To Learn More
For more information, call Hetal at 416.507.6662 or ozah@ccf.org.
The Cleveland Clinic Executive Health Physical program is also available in Florida and Ohio. For more information:
The Program
The Program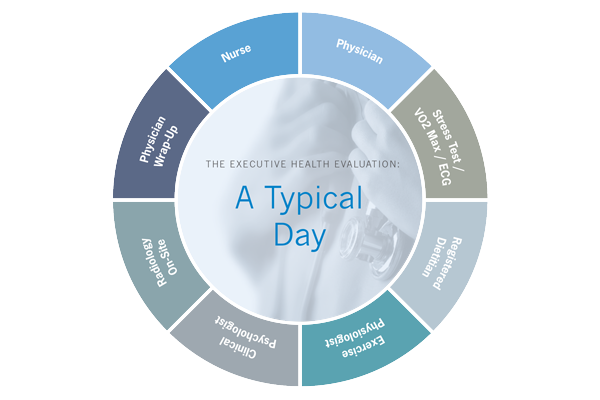 Day of Care
Your Executive Health Program begins when you schedule your appointment. To help us prepare for your time with us, you will receive a medical questionnaire to complete prior to your arrival. This is an important step because it provides valuable information to our medical team.
On the day of care, your clinical team will customize your experience based on your health needs.
History and Physical
A detailed medical history and evaluation, providing an assessment of your overall physical health.
Comprehensive Laboratory Tests
A complete blood count
Urinalysis to detect problems such as diabetes and kidney disorders
Blood tests to detect problems such as thyroid abnormalities, liver disease and diabetes
PSA (prostate-specific antigen) blood test for males over 40 to detect levels of this prostate cancer marker
Vitamin D, Vitamin B12 and iron levels
Vaccinations
Adult vaccinations, reviewed and administered as needed
Cardiac Health
Cardiac Stress Test: A treadmill exercise ECG test to screen for unrecognized coronary artery disease, high blood pressure (hypertension) and abnormal heart rhythms (arrhythmias). Includes Resting Electrocardiogram (ECG).
OR
V02 max: A treadmill-based exercise test that provides an enhanced assessment of your cardiorespiratory function and your fitness level.
Cancer Screening
Evidence-based screenings for breast, colon and cervical cancers as well as others if family history indicates.
Visual Health
Visual Acuity Test: Visual screening.
Tonometry: A check of pressure within the eye to screen for glaucoma.
Auditory Health
Audiogram: An evaluation of your hearing to screen for early signs of hearing loss.
Pulmonary Health
Spirometry: This breathing function test helps to detect emphysema, bronchitis, asthma and other lung problems.
Diagnostic Imaging (As clinically indicated)
General x-ray: Depending on a patient's need, x-rays may be ordered to evaluate bony structures. X-Rays are also commonly used to image certain degenerative diseases, including osteoarthritis.
Chest x-ray: Depending on a patient's need, a chest c-ray may be used to evaluate the lungs, heart and chest wall. This x-ray can be useful in the diagnosis of many medical conditions.
Mammography: A low-dose x-ray examination of the breasts, used to aid in the diagnosis of breast diseases. Mammography can play a crucial role in early detection of breast cancer, since it ay detect abnormalities before a patient presents with any symptoms.
Ultrasound: Ultrasound imaging allows for an internal view of the organs, soft tissue and body cavities, without using invasive techniques.
Bone Density Test: This enhanced form of x-ray technology is considered the gold standard for measuring bone mineral density (BMD). This test is used to diagnose osteoporosis and assess the future risk of fractures.
Computerized Tomography (CT): produces cross-sectional images of bony structures, body tissues and organs. Compared to standard x-rays, CT scans provide greater detail and clarity for a wider variety of tissue types. (Available off-site)
MRI: Magnetic Resonance imaging (MRI) combined radiofrequency waves with a powerful magnetic field to obtain remarkably clear, detailed images of internal organs and tissues that may not be visible using other imaging technologies. (Available off-site)
Procedures
Colonoscopy: This fiber-optic examination of the entire colon detects polyps, cancer and other abnormalities. Polyps can be removed at the time of the exam. (Available off-site)
Wellness Consultations
Nutrition Consultation:A registered dietitian will provide you with nutritional recommendations and help you establish healthy eating habits that last a lifetime. Our registered dietitians translate cutting-edge, evidence-based scientific findings into real-life nutritional practice. They will assess your current eating habits and demonstrate the vital role diet plays in everything from disease prevention to optimizing your overall health and well-being. For a fee, patients may enroll in our nutritional genetics program.
Fitness Consultation: During your consult, your strength and flexibility will be measures to assess your current fitness levels. An exercise physiologist will establish a specific fitness plan for you, based on your physician's recommendations, your personal goals and your activity level. Whether you are training for a marathon or just starting a fitness regimen, you will learn to make the most of your exercise time. We will tailor recommendations to suit your busy schedule and available equipment. We will also provide tips for exercising on the road and recommendations for home exercise equipment, if desired.
Psychological Consultation: This confidential session encompasses a number of important health and lifestyle factors that contribute to overall life satisfaction and optimal functioning. This includes an assessment of key concerns, such as stress management, work-life balance, mood, anxiety, sleep, interpersonal functioning and substance abuse.
Same-Day Test Results
Your Executive Health physician will summarize the team's findings and discuss your available lab test results and any recommendations for follow-up tests. If your physician identifies a potential or existing problem requiring further evaluation, we will coordinate appointments with the appropriate specialists for an in-depth assessment.
Cleveland Clinic Canada's Difference
We are a part of one of the world's largest and most respected not for profit health organization.
Our program is comprehensive and includes a 6 hour, head-to-toe medical and wellness evaluation, personalized health recommendations to help you take charge of your health and access to our urgent care service, run by our nurse practitioner, for 12 months.
Our program is offered at one flat rate so that our patients receive the services that are necessary for them and are not charged for individual services.
The patient experience is extremely important to us. Our Executive Health physicians limit the number of patients they see per day to ensure patients receive the time and attention they need and deserve.
For convenience, we have 25 on-site specialists at our clinic. Specialty areas include cardiology, dermatology, endocrinology, immunology, neurology, orthopaedics, otolaryngology, respirology, urology and sports medicine.
Access to a global network of over 3,000 Cleveland Clinic physicians, surgeons and specialists.
The ability to view your electronic medical records anywhere in the world through our secure online tool, MyChart.
Testimonials
"Taking time out from my busy schedule is not easy. My typical day is full of appointments and meetings – being organized and on time is critical to the success of my day. It was wonderful to see that Cleveland Clinic Canada is run the same way, starting on time and with a friendly hello. The appointments through the day were steady, efficient and supportive. I loved it! Spending the day at Cleveland Clinic Canada provided me with the time to focus on 'me,' a luxury that I realized is critical not only to my own health, but also to the health of my family and my business."
- Doris Valade
Our Staff
Our Staff
Below is our Executive Health team. Additional specialists will be involved as required.
Executive Health Physician
Your Executive Health Physician will conduct your annual physical exam and discuss with you any medical concerns.
Cardiology
A member of the cardiology team will perform the ECG (electrocardiogram) and stress test and the cardiologist will review test results.
You will also spend time with the following specialists during your Executive Health examination:
Executive Health Nursing Team
A member of our Executive Health nursing team will review your personalized family history, medications and immunizations and perform testing, including vision and hearing screenings and lung-function testing.
Exercise Physiology
An exercise physiologist will administer muscular fitness and flexibility tests, cardiovascular endurance assessments and provide counselling about exercise and physical activity specifically for your lifestyle.
Nutrition
A Registered Dietitian will conduct a nutritional assessment and provide personalized counselling based on your dietary needs and habits.
Lori Halton, BA, BASc, RD - Registered Dietitian
Ahuva Magder, MAN, RD - Registered Dietitian
Jaclyn Pritchard, BASc, RD - Registered Dietitian
Cassandra Reid, BSc, RD - Registered Dietitian
Laura Vermander, BSc, BSc, RD - Registered Dietitian
Vanessa Zoras, BASc, RD - Registered Dietitian
Mohamed Rezk, RD - Registered Dietitian
Behavioural Health
A behavioural specialist will provide a comprehensive lifestyle assessment and personalized counselling for stress and behaviour management techniques.
Lab and Imaging
A radiology technician will perform scans for bone density, chest x-ray, mammography and abdominal ultrasound (as required). The results will be reviewed by our preferred radiology group. A phlebotomist will draw blood for testing and collect a urine sample.
Urgent Care
Our nurse practitioner is available throughout the year for any urgent care needs, such as a sore throat or ear infection.
Lindsey St. Cyr, NP - Nurse Practitioner