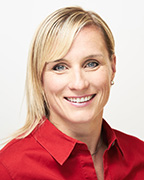 Biography
Jennifer Sygo is a registered dietitian and sports nutritionist with Cleveland Clinic Canada. Under her supervision, clients learn to integrate a nutritional component to their lifestyle management or wellness program. Ms. Sygo has a special interest in helping those with nutritional needs as they relate to disease, weight management and sports performance. Ms. Sygo is an official provider of nutrition services for the Canadian Sport Centre Ontario (CSCO), and the Coaching Association of Canada's Sport Nutrition Advisory Council (SNAC); she also serves as the co-Chair of the Dietitians of Canada and Consulting Dietitians Network.
Ms. Sygo earned her undergraduate degree in Biochemistry from McMaster University and completed her Master of Sciences degree in Human Biology and Nutritional Sciences at the University of Guelph.
A noted public speaker, she has presented to a variety of audiences ranging from sports teams and public schools to some of Canada's largest corporations. She has been a keynote speaker at Kellogg's Nutrition Symposium, an annual Dietitians of Canada conference in Prince Edward Island. Ms. Sygo currently serves as team dietitian for the Toronto Raptors, Athletics Canada, Swimming Canada, and Gymnastics Canada and has provided nutrition counselling for several Olympic medalists as well as the Toronto Maple Leafs hockey team. Ms. Sygo is regularly featured in the media, including Canada AM, Global News, The Toronto Star, City TV News and wrote a weekly nutrition column for the Arts and Life section of the National Post for many years.
Ms. Sygo and her husband have two children. When she is not busy parenting, she is an avid athlete and sports enthusiast enjoying yoga, basketball and running. She has completed several half-marathons as well as the 2004 Toronto Marathon.
Education/Training
Master of Sciences

University of Guelph
Guelph, ON

Bachelor of Sciences

McMaster University
Hamilton, ON
Specialty Interests
Sports and Performance Nutrition
Bone Health
Disease Prevention
Cardiovascular Disease
Healthy Eating
Vegetarianism
Weight Management
Professional Memberships
Dietitians of Canada
Consulting Dietitians Network