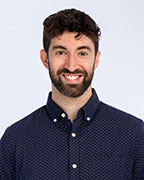 Biography
Aaron Laye is a Registered Social Worker at Cleveland Clinic Canada. He has a strong interest in understanding and treating anxiety, stress, anger, trauma (including PTSD), chronic pain, family dynamics, performance psychology, and burnout prevention and recovery. He is passionate about helping his patients achieve their goals, live intentionally, and be the best version of themselves they can be.
Mr. Laye first obtained his Bachelor of Arts in Psychology from York University before going on to complete his Master of Social Work, with a focus on clinical counselling and psychotherapy, at the University of British Columbia. He has since enhanced his training by completing courses in a wide variety of therapies and techniques, including cognitive behavioural therapy (CBT), acceptance and commitment therapy (ACT), solution-focused brief therapy (SFBT), trauma-focused therapies, mindfulness and resiliency techniques, and compassion-centred care.
In his practice, Mr. Laye has treated a wide variety of patients ranging from motor vehicle accidents and workplace injuries to soldiers and veterans, first responders and the general public. He is an active member of his community and has volunteered his time as a member of the Psyching Team for the Toronto Marathon as well as the Canadian Centre for Victims of Torture. He also has a special interest in providing support for athletes' performance and well-being.
When he's not treating patients, Mr. Laye enjoys pitching for his baseball team during their season, and playing basketball and tennis. You can also find him playing Scrabble or chess, kayaking, hiking, reading, listening to music, and spending time with his family and friends.
Education/Training
Masters

University of British Columbia
Social Work
Kelowna, BC
Bachelor of Arts (Honours)

York University
Psychology
North York, ON
Certifications
Cognitive behavioural therapy (CBT)
Dialectical behavior therapy (DBT)
Acceptance and commitment therapy (ACT)
Solution-focused brief therapy (SFBT)
Trauma-focused therapies (ie- polyvagal-informed, cognitive processing therapy)
Mindfulness and resiliency techniques
Imagery techniques
Compassion-centred care
ASIST (Liveworks Suicide Intervention)
Specialty Interests
Anxiety
Stress
Burnout prevention and recovery
Anger management
Trauma
Posttraumatic stress disorder (PTSD)
Chronic pain
Family dynamics
Performance psychology
Professional Memberships
Ontario Association of Social Workers (OASW)

Ontario College of Social Workers and Social Service Workers (OCSWSSW)

Alberta College of Social Workers (ACSW)