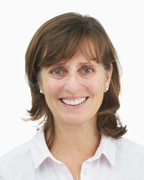 Biography
Ms. Pichler is a physiotherapist at Cleveland Clinic Canada. Ms. Pichler has an extensive background in the field of sports physiotherapy. Ms. Pichler's treatments are manual therapy based, coupled with muscle energy techniques, myofascial stretching and dynamic functional strength training.
Practicing for more than 30 years, Ms. Pichler has always been involved with active individuals and has consistently worked as an integral part of larger medical teams. Through the years she has often been in close consultation with coaches, trainers, sport medicine physicians, orthopedic surgeons, nutritionists and psychologists. During her career, she has treated a variety of elite athletes, but from her earliest years she has been involved with dancers from the National Ballet of Canada, Canadian figure skaters and national level alpine skiers. Ms. Pichler was named as a designated physiotherapist for two Olympic Games. She currently acts as Medical Coordinator for Canadian Tour of Stars On Ice. She continues to work closely with several International professional skating tours and is the Director of Dancer Health and Wellness at the National Ballet of Canada.
Ms. Pichler is focused, highly motivated and committed to her work. She offers a broad range of skills, a sense of enthusiasm and a high level of energy. Her passion brings her to where the athlete is performing. She loves to analyze mechanics and movement while linking technique to injury prevention. Ms. Pichler believes that physiotherapy care is a dynamic partnership. As a therapist, her role is to not only to provide local treatment but also to equip the patient with the strategies they need to move confidently forward in their rehabilitation.
When she's not seeing patients, she enjoys spending time with her family.
Education/Training
Doctorate of Acupuncture

The Institute of Traditional Chinese Medicine
Toronto, ON

Bachelor of Science in Physiotherapy

University of Toronto
Toronto, ON
Special Courses
Acupuncture
Muscle energy technique
Fascial stretch technique
Darby training systems
IRB Boston Children's Hospital
Orthopedic Manual Physiotherapy (spinal and peripheral)
Professional Memberships
College of Physiotherapists of Ontario
Canadian Physiotherapy Association (Sports, Orthopedics, Acupuncture)
First Responder Emergency Medicine