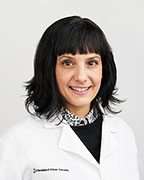 Biography
Regan Walker is an Osteopathic Manual Practitioner at Cleveland Clinic Canada. She has extensive experience treating postural dysfunctions, pregnancy related issues, low back injuries, chronic pain and problems related to poor work station ergonomics.
Ms. Walker obtained her Diploma in Massage Therapy and practiced as a Registered Massage Therapist for many years. During this time, she was introduced to the field of osteopathy and knew immediately that it was the right path for her. She went on to complete her osteopathic studies at the Southern Ontario College of Osteopathy in Mississauga.
Ms. Walker is dedicated to helping her patients live pain free. She truly enjoys developing individualized treatment plans, and loves working in a multidisciplinary environment where she can collaborate with other experts in rehabilitation to provide the best care possible for her patients. Her treatment techniques include joint mobilization, trigger point release, myofascial release, muscle energy, strain-counterstrain, and cranialsacral techniques.
When she's not seeing patients, Ms. Walker enjoys camping, sailing and being outdoors. She stays active with dance as well as chasing her twins.
Education/Training
Diploma

Southern Ontario College of Osteopathy
Mississauga, ON

Diploma of Massage Therapy

Sutherland Chan School and Teaching Clinic
Toronto, ON
Specialty Interests
Postural dysfunctions
Pregnancy related issues
Low back injuries
Ergonomics
Chronic pain
Professional Memberships
The Ontario Federation of Osteopathic Professionals (OFOP)
College of Massage Therapists of Ontario