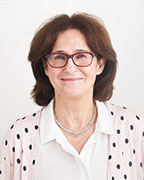 Biography
Joanne Kirzner is a Registered Social Worker, Psychotherapist and a member of Cleveland Clinic Canada's Executive Health team. Ms. Kirzner holds a Bachelor of Arts in Sociology, a Bachelor of Social Work and a Masters of Social Work. She is registered with the Ontario College of Social Workers and Social Services Workers.
Ms. Kirzner has extensive clinical experience providing psychotherapy to individuals, couples and groups. Her experience includes working with diverse populations and providing treatment for a wide range of psychological issues that include addiction and substance abuse issues, anxiety, depression, trauma, marital and relationship issues, grief and issues of loss, disordered eating and body image issues, and mood issues. She is an eclectic therapist and draws on her training in different treatment modalities to select the modality that is in the best interests of her clients. Her training includes cognitive behaviour therapy, EMDR, psychodynamic theory and mindfulness and mindfulness meditation.
Ms. Kirzner chose social work because of her passion to help others meet their goals and be the best that they can be. Her previous clinical work experience included being on the psychotherapy team at the Canadian Mental Health Association, where she worked with those presenting with serious mental illness and 11 years at the Counselling & Disability Service at York University. She also acted as a group therapist at a methadone clinic. She continues to see a wide range of clients in private practice.
Equally passionate about social work education and eager to share her knowledge, Ms. Kirzner has been a clinical supervisor to numerous social work students in their clinical placements at the Counselling Centre at York University. She previously taught social work to social service worker students at Centennial College, and acted as a field supervisor in the Social Service Worker Program, where she provided supervision to social service work students in their field placements.
When she is not seeing patients, Ms. Kirzner enjoys long distance swimming, spending time at the gym, reading a good book, listening to live music and spending time with friends and family.
Education/Training
Masters of Social Work

University of Toronto
Toronto, ON

Bachelor of Social Work

York University
Toronto, ON

Bachelor of Arts

York University
Toronto, ON
Certifications
EMDR Training Levels 1 and 2, EMDRIA
Dialectic Behaviour Training
Mindfulness Meditation Professional Training
Trauma Counselling for Front-Line Workers , Levels 1 and 2
Cognitive Behaviour Therapy Training, Level 1
Domestic Violence and Mediation Training
Addiction Studies Certificate Program (TAPE): Treating Co-occurring Mental Health and Addiction Problems
Addiction Studies Certificate Program (TAPE): Relapse and Recovery: Strategies To Maintain Change
Specialty Interests
Trauma
Anxiety
Depression
Resilience and honing resilience
Professional Memberships
College of Social Workers and Social Services Workers
Ontario Association of Social Workers