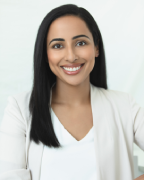 Biography
Monica Kalar is a Nurse Practitioner at Cleveland Clinic Canada. Ms. Kalar has experience in a wide variety of clinical settings, including primary care, chronic disease management, pediatrics, geriatrics, immunizations, newborn and maternal health assessments. She holds her licensure as a Nurse Practitioner in both British Columbia and Manitoba.
Ms. Kalar obtained her Bachelor of Nursing from the University of Manitoba before going on to complete her Master of Nursing as a Nurse Practitioner. Always looking to learn the latest in her field, Ms. Kalar has completed additional training in the Workplace Hazardous Materials Information System (WHMIS), the Personal Health Information Act (PHIA), and the Non-Violent Crisis Intervention Training program. Additionally, she completed her Immunization Certificate through the Winnipeg Regional Health Authority.
Her clinical expertise includes diagnosing and treating common conditions such as viral infections, upper respiratory tract infection, genitourinary infections, dermatologic conditions, as well as prescriptions refills. Monica has a particular interest in women's health and family planning and is skilled in pediatric health, providing holistic family-centered care to her patients. Ms. Kalar is dedicated to working with her patients to help educate them about their physical and mental health conditions and empower them with the tools they need to feel their best.
When she's not seeing patients, Ms. Kalar enjoys spending time with her family, embarking on outdoor adventures in Manitoba and British Columbia and practicing yoga and photography. She is fluent in English and Punjabi.
Education/Training
Master of Nursing


University of Manitoba
Nurse Practitioner
Winnipeg, MB
Bachelor of Nursing


University of Manitoba
Winnipeg, MB
Certifications
Basic Cardiac Life Support (BCLS)
Workplace Hazardous Materials Information System (WHMIS)
Personal Health Information Act (PHIA)
Non-violent Crisis Intervention Training program
Immunization Certificate (Winnipeg Regional Health Authority)
Specialty Interests
Women's health
Reproductive Health
Pediatric Health
Mental Health
Professional Memberships
College of Registered Nurses of Manitoba (CRNM)
British Columbia College of Nurses + Midwives (BCCNM)