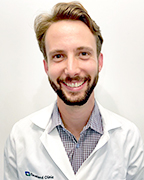 Myles Dalton is a Chiropractor at Cleveland Clinic Canada. Dr. Dalton's assessment and treatment style is comprehensive, taking into account full body structural and neuromuscular patterns and dysfunctions. He specializes in diagnosing and treating conditions related to the spine and nervous system, particularly neck and back pain.
Dr. Dalton completed his Bachelor of Science in Kinesiology at Dalhousie University in Halifax. During his time at Dalhousie, Dr. Dalton volunteered with the Athletic Therapy Association, acting as the Athletic Therapist for the UKC Men's Volleyball team. He went on to complete his Doctor of Chiropractic at the Canadian Memorial Chiropractic College.
Dr. Dalton is passionate about lifelong education and has completed certification in a wide variety of techniques, including functional neuromuscular assessment, Active-Release Technique, performance therapy and mindfulness therapy.
Dr. Dalton uses manual therapies and takes a holistic and dynamic approach to health and wellness. Dr. Dalton offers recommendations which incorporate movement, mindfulness and nutrition to help his patients feel and perform at their best. He has a vested interest in meditation, practicing daily and taking courses to further his understanding. With a history of competitive sport, Dr. Dalton particularly enjoys working with high-performance populations, especially racquet sport and endurance athletes. He has worked closely with a variety of different patient populations, including chronic conditions, acute pain and wellness. He feels passionately about connecting to his patients and doing the detective work to best understand their needs and goals.
When he's not treating patients, Dr. Dalton enjoys backcountry camping and hiking with his wife, and seeking out nature and adventure as much as he can. He also enjoys being active and playing sports, particularly badminton, running, and yoga.
Education/Training
Doctor of Chiropractic


Canadian Memorial Chiropractic College
North York, ON


Bachelor of Science


Dalhousie University
Kinesiology
Halifax, NS

Certifications
Functional Neuromuscular Assessment
Active-Release Technique - Upper extremity
Integrated Seminar Series: Integrated Patterning
Thompson Technique
CSEP Certified Personal Trainer
Underground Wellness - The Digestion Sessions Webinar Series
UMass Center for Mindfulness in Medicine, Healthcare and Society - Mindfulness Based Stress Reduction (MBSR) Introductory Course
Vipassana 10-Day Meditation Course
NEXT Canada: AI Business Strategy and Application
Canadian Chiropractic Examining Board (CCEB) Certificate of Competency
Specialty Interests
High performance sport
Racquet sports
Endurance athletics
Chronic pain
Acute pain
Wellness
Professional Memberships
College of Chiropractors of Ontario (CCO)
Ontario Chiropractic Association (OCA)
Canadian Chiropractic Association (CCA)