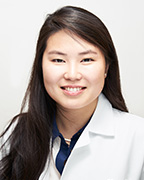 Biography
Eirene Keh is a Registered Medical Radiation Technologist at Cleveland Clinic Canada. Ms. Keh is a skilled provider of radiographic procedures and works to help diagnose concerns such as fractures, osteoporosis, osteoarthritis, and other acute and degenerative issues.
Born in Vancouver and raised in multiple cities in North America and Asia, Eirene was always drawn to the healthcare field. Working as a pharmacist's assistant throughout secondary school, she decided to pursue a career in the health sciences. She completed her Honours Bachelor of Science in Human Biology at the University of Toronto before completing a second Bachelor of Science in Medical Radiation Science. During her studies, Ms. Keh completed her internship at Sunnybrook Health Sciences Centre. After graduation, Ms. Keh completed additional training in bone mineral densitometry and mammography. She was also able to complete extensive mammography training at the Cleveland Clinic Breast Center located in Cleveland, Ohio.
When she's not working, Ms. Keh enjoys leatherwork. She also loves to cook (and eat).
Education/Training
Bachelor of Science

University of Toronto & Michener Institute of Applied Health Sciences
Radiological Technology, Medical Radiation Sciences
Toronto, ON

Bachelor of Science (Honours)

University of Toronto - St. George Campus
Human Biology: Health and Disease Specialist
Thunder Bay, ON
Certifications
RTR certified with the Canadian Association of Medical Radiation Technologists
MRT(R) certified with the College of Medical Radiation Technologists of Ontario
CPR/AED level HCP
Professional Memberships
Canadian Association of Medical Radiation Technologists (CAMRT)
Ontario Association of Medical Radiation Sciences (OAMRS)
College of Medical Radiation Technologists of Ontario (CMRTO)