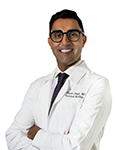 Biography
Shaan Chugh, MD, is an Internal Medicine Specialist at Cleveland Clinic Canada. Dr. Chugh treats all types of patients with undifferentiated conditions.
Dr. Chugh obtained his Doctor of Medicine from the University of Ottawa, before going on to complete his residency in Internal Medicine at McMaster University in Hamilton. He completed a Fellowship in the General Internal Medicine Subspecialty Program at University of Toronto before a strong interest in patient safety and quality improvement led him to pursue a Masters in the subject from the University of Toronto. He lends his expertise to University's Internal Medicine Program as a supervisor for the quality curriculum for the PGY4 Internal Medicine Program.
Actively involved in the world of research, Dr. Chugh is currently the Research Lead/Quality Improvement Curriculum Lead for a pilot study on improving access to care for elderly residents at an Ontario nursing home. His work has been published in a variety of medical journals, including Circulation and the Lancet Hematology.
When he's not treating patients, Dr. Chugh enjoys relaxing with his wife and his daughter, and travelling the world.
Education/Training
Masters of Science

University of Toronto
Patient Safety and Quality Improvement
Toronto, ON
Fellowship

University of Toronto
General Internal Medicine Subspecialty Program
Toronto, ON
Residency

McMaster University
Internal Medicine
Hamilton, ON
Doctor of Medicine

University of Ottawa
Ottawa, ON
Masters of Science

University of Toronto
Cardiovascular Physiology
Toronto, ON
Bachelor of Science

University of Waterloo
Life Science
Waterloo, ON
Specialty Interests

Internal medicine
Undifferentiated illness

Professional Memberships

Canadian Society of Internal Medicine
Ontario Medical Association (OMA)
Canadian Medical Association (CMA)