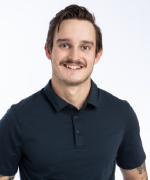 Biography
Griffin Nykor is an Exercise Physiologist at Cleveland Clinic Canada. Mr. Nykor uses evidence-based research to develop exercise programs for his patients, helping them to perform at their optimal level. He has a strong interest in strength training and is dedicated to helping every patient reach their health goals and become the best possible version of themselves.
A background in contact sports and the injuries that came along with them exposed Mr. Nykor to the great impact that healthcare and rehabilitation can have on individuals. He channeled this enthusiasm into a career, first obtaining his Bachelor of Arts in Kinesiology from the University of Western Ontario. He is currently completing his Masters in Exercise Science at the University of Toronto. Additionally, Mr. Nykor has completed certification as a personal trainer through the National Strength and Conditioning Association, as well as certification in exercise prescription for the upper extremities.
Mr. Nykor is passionate about the world of athletics. He previously held the role of Strength and Conditioning Coach for the Toronto Nomads Rugby Club and acted as Co-Captain of the Western Kinesiology Games team.
When he's not seeing patients, Mr. Nykor spends his time training for the Ironman triathlon and trying new restaurants around the city.
Education/Training
Masters (In progress)


University of Toronto
Exercise Science
Toronto, ON
Bachelor of Arts

University of Western Ontario
Kinesiology
London, ON
Certifications
Certified Personal Trainer – National Strength and Conditioning Association
Exercise Prescription for the Upper Extremities – Level 1
Standard First Aid/CPR Level Cs
SCAT-5 Concussion Testing
Specialty Interests
Strength training
Muscle biochemistry
Professional Memberships
College of Kinesiologists of Ontario
National Strength and Conditioning Association