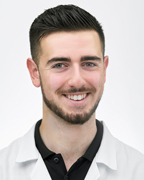 Biography
Matt DiNardo is a Certified Athletic Therapist at Cleveland Clinic Canada. Mr. DiNardo treats and assesses a wide variety of athletic injuries and orthopaedic conditions in a clinical and field setting, and works with his patients to help correct muscular imbalances and create personalized home programs for patients post-treatment.
Mr. DiNardo completed his Undergraduate Degree in Kinesiology and Certificate in Athletic Therapy at York University before going on to obtain an Advanced Standing Massage Therapy Certification. In his practice, he performs full body assessments which include neurological and joint scanning, inert and contractile structure rule-out, palpation skills, and a large variety of specialized tests. He is certified in the Functional Movement Screen (FMS), and uses this tool to assess movement patterns and create mobility/strengthening exercise programs to correct imbalances and movement insufficiencies. He also provides dynamic functional rehabilitation of musculoskeletal injuries for patients of all ages and skill sets.
Passionate about athletics, Mr. DiNardo has worked with a number of varsity sports teams at York as well as semi-professional soccer, hockey, and rugby teams across Ontario. He has worked in various multi-disciplinary clinics and strength and conditioning facilities throughout his career performing hands-on therapy, assessments, and physical training.
Mr. DiNardo is dedicated to creating exercise programs that aid in the active rehabilitation of all patients. He enjoys working with his patients to aid their progression into a strengthening/flexibility/mobility/sport specific program to help restore them to a more functional level than they were before they started the rehabilitation process. He enjoys helping them to safely and effectively help them reach their goals in areas such as weight loss, muscular development, return to sport/work/activity, increasing mobility, flexibility, stability, and strength of all joints and their surrounding musculature, and overall improvement of movement through corrective exercise and dynamic functional training methods.
When he's not seeing patients, Mr. DiNardo likes to spend time with friends and family and stays active by playing hockey, tennis, volleyball, and soccer.
Education/Training
Certificate

Ontario College of Health and Technology
Registered Massage Therapy (Advanced Standing)
Stoney Creek, ON

Bachelor of Arts (Honours)

York University
Kinesiology
North York, ON
Certifications
First Responder
CPR & AED Level HCP - Canadian Red Cross
Specialty Interests
Post-surgical/post-concussion rehabilitation
Sport massage
Dynamic exercise