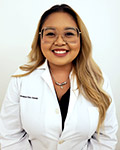 Biography
Nicole Alconera is a Registered Practical Nurse at Cleveland Clinic Canada.
Ms. Alconera obtained her Diploma in Practical Nursing from Centennial College. She has since completed certification in phlebotomy, IV insertions and maintenance and electrocardiogram administration. She has a particular interest in internal medicine and psychology.
Ms. Alconera takes pride in providing her patients with a health care experience that is positive and is dedicated to decreasing any potential fears and anxieties associated with care. She has years of experience in a hospital setting, preparing and administering oral, parenteral, and topical medications as well as obtaining blood work, assisting with IV transfusions and catheterization.
Working in the emergency field, Ms. Alconera has also gained experience in treating chronic illnesses such as CHF and COPD, as well as mental health related issues and orthopaedic injuries that require stabilizing with splints or injuries requiring sutures and wound dressings. She previously worked in the air medical field, providing critical patient care during emergency transport.
When she's not seeing patients, Ms. Alconera likes to take her dogs for walks to explore new neighbourhoods and cities.
Education/Training
Diploma

Centennial College
Practical Nursing
Scarborough, ON
Certifications
Standard First-Aid and CPR
Level HCP Phlebotomy
IV insertions and Maintenance
ECG and Coronary Care Certificate
Crisis Prevention and Intervention
Pediatric Emergency Assessment, Recognition, and Stabilization (PEARS)
Specialty Interests
Internal medicine
Psychology
Professional Memberships
College of Nurses of Ontario
Registered Practical Nurses Association of Ontario (RPNAO)