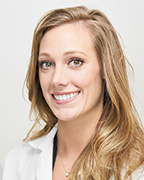 Biography
Ms. Wilkinson is an exercise physiologist at Cleveland Clinic Canada with years of experience working with clients of all different fitness levels.
Ms. Wilkinson was first drawn to the world of exercise physiology at a young age, when she competed as part of Canada's national synchronized figure skating team. Understanding human physiology was a critical component to getting the most out of her athletic performance and it motivated her to seek a career where she could assist others in maximizing their physical performance and health.
She went on to obtain her Bachelor of Arts in Kinesiology at York University before completing her Bachelor of Science (Honours) in Fitness Assessment and Exercise Counselling from York. During her time at York, Ms. Wilkinson worked with the York University Varsity Men's Hockey Team and the OHL Boys/Mens team to provide pre and post season fitness testing. She currently assists with fitness testing for fire fighters.
After graduation, Ms. Wilkinson travelled to Angola, Africa to volunteer at the Mission Angola Foundation. She worked in the physiotherapy ward, scrubbed into numerous surgeries and assisted with hernia repairs, tumor removal, plastering casts, stress tests, exercise prescriptions and nutritional information.
Ms. Wilkinson is driven to help others be their best selves and live healthy and active lives. She is passionate about helping patients understand how to incorporate exercise into their daily routine and educates them about potential exercise barriers. Her fitness motto is, "it is better to make many small steps in the right direction than to make a great leap forward only to stumble backward."
When she's not working with patients, Ms. Wilkinson loves to spend time with her family and friends. She enjoys anything outdoors and stays active with competitive soccer, beach volleyball, running, swimming and strength training.
Education/Training
Master of Science

York University
Master of Fitness and Assessment
Toronto, ON
Bachelor of Arts

York University
Honours Health and Kinesiology
Toronto, ON
Certifications
Health and Fitness Federation of Canada (HFFC): Certified Exercise Physiologist
CPR Certification (Re-certified 2016)
Specialty Interests
Post-injury Conditioning
Musculoskeletal Health
Behavioural Health Coaching