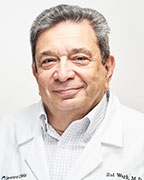 Biography
Sol Werb, MD, is an Executive Health Physician at Cleveland Clinic Canada with over 40 years of clinical experience in office-based preventive and comprehensive family medicine as well as hospital/ER and chronic-care facility medicine.
He is a strong believer in the power of prevention and is passionate about counselling his patients on the lifestyle changes they can make to prevent various illnesses such as diabetes, hypertension, coronary artery disease and various cancers.
Born in Italy and raised in Edmonton, Dr. Werb obtained his Doctor of Medicine from the University of Alberta. He completed his residency in Family Medicine from the University of Toronto at St. Michael's Hospital. He has continued his relationship with the University of Toronto Department of Family and Community Medicine by mentoring both medical students and residents in his practice. He is also a Peer Leader for OntarioMD, training and assisting medical doctors in the transition from paper-based to electronic medical records.
When he is not seeing patients, Dr. Werb enjoys travelling, golfing, playing tennis and running. He also enjoys listening to jazz, blues and country music and spending quality time with his wife, children and grandson.
Education/Training
Residency

Family Practice
University of Toronto
Toronto, ON
Doctor of Medicine

Family University of Alberta
Edmonton, AB
Bachelor of Science

University of Alberta
Edmonton, AB
Specialty Interests
Preventive health and wellness
Acute care
Healthcare technology innovation to prevent, monitor and improve disease management and outcomes
Professional Memberships
College of Family Physicians Canada; COFP(Ontario)
College of Physicians & Surgeons of Ontario
Canadian Medical Protective Association
Canadian Medical Association/Ontario Medical Association