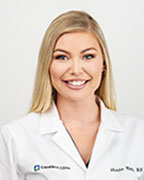 Biography
Shayla Watt is a registered nurse at Cleveland Clinic Canada. Ms. Watt has a wealth of experience treating patients in a variety of clinical areas, including orthopaedics, general medical, ENT and urological care.
Inspired by several family members in the field, Ms. Watt knew she wanted to pursue a career in nursing. Ms. Watt obtained a certificate in Pre-Health from Fanshawe College in London before going on to complete her Bachelor of Science at Fanshawe College and Western University's Collaborative Nursing Program. Her clinical placements included nursing roles in palliative care, mental health, diabetic care, post-operative care and chemotherapy and radiation. Since graduation, Ms. Watt has acted as a mentor and leader for students and newly licensed nurses.
Ms. Watt is dedicated to helping her patients live their healthiest lives and is passionate about proactive care and holistic treatments. She is a life-long learner and always looking to discover the latest in her field.
When she's not seeing patients, Ms. Watt loves to spend time outdoors and discover new places. She also enjoys drawing, sketching, photography, exercise and travelling.
Education/Training
Bachelor of Science

Fanshaw College/Western University
Collaborative Nursing Program
London, ON

Certificate

Fanshaw College
Pre-Health
London, ON
Specialty Interests
Professional Memberships
Association College of Registered Nurses of Ontario
Registered Nurses Association of Ontario
Certifications
Advanced Cardiac Life Support (ACLS)
IV Initiation Skills Certification
Current Health Provider CPR Certification