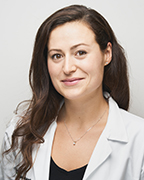 Biography
Natasha Warboys is a physiotherapist with the Sports Health team at Cleveland Clinic Canada. Ms. Warboys treats a wide variety of conditions including rotator cuff tears, low back pain, ankle sprains and post-operative knee replacements. She is particularly interested in injury prevention and education.
Born and raised in Toronto, Ms. Warboys completed her Bachelor of Arts with a specialization in kinesiology from York University before relocating to Ottawa to obtain her Masters of Health Science in Physiotherapy from the University of Ottawa. Since graduation, Ms. Warboys has focused on orthopaedic conditions, neuromuscular conditions, post-operative orthopaedic rehabilitation and vestibular rehabilitation.
Ms. Warboys is passionate about helping her patients achieve their goals. She believes in a hands-on, holistic approach to treatment and uses manual therapies, exercise programs and taping in her practice.
When she's not treating patients, Ms. Warboys stays active by playing volleyball and tennis and enjoys food, wine and travelling. She is a dedicated runner and competes in several half marathons each year.
Education/Training
Masters of Health Science

University of Ottawa
Physiotherapy
Ottawa, ON

Bachelor of Arts (Honours)

York University
Specialization in Kinesiology
Toronto, ON
Certifications
Mechanical Diagnosis - Therapy Part A Lumbar Spine
First Aid and CPR level C
New Trends in the prevention of Running Injuries
NLS National Lifesaving Society
Specialty Interests
Injury prevention
Low back pain
Shoulder injuries
Knee injuries
Functional movement screening
Patient education
Professional Memberships