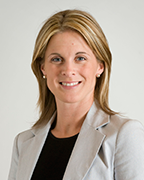 Biography
Leslie Van Zelst-Lempp is the Clinical Lead, Preventive Cardiology and Rehabilitation at Cleveland Clinic Canada. Ms. Van Zelst-Lempp has extensive leadership experience in physical fitness and outpatient chronic disease management programs. She has a particular interest in cardiac physiology, physical ability and aging, behavioural health coaching and sports performance.
Ms. Van Zelst-Lempp was raised in Chatham, Ontario. Her interest in fitness began at the age of six, when she entered the world of competitive gymnastics. She competed for ten years while also playing varsity and club-level sports in high school, and eventually university-level basketball. Eager to turn her passion for athletics into a career, Ms. Van-Zelst-Lempp obtained her Bachelor of Human Kinetics from the University of Windsor. She then received her industry designation by the American College of Sports Medicine as a Clinical Exercise Physiologist.
Ms. Van Zelst-Lempp believes that fitness routines and activities must be personalized; what works for one patient may not work for another. She works closely with her patients to determine what exercise strategies are most effective- both mentally and physically.
When she's not seeing patients, Ms. Van Zelst-Lempp enjoys spending time with her family and friends, travelling, being outdoors and reading. She stays active by playing basketball, practising Pilates, running, swimming, cycling and strength training.
Education/Training
Bachelor of Human Kinetics (Honours)

University of Windsor
Movement of Science
Windsor, ON
Certifications
Certified Clinical Exercise Physiologist, American College of Sports Medicine
Certified Wellcoach, American College of Sports Medicine
Certified ACLS, CPR and AED
Specialty Interests
Chronic disease management
Physical ability and aging
Sports performance
Edurance training
Women's health
Behavioural health coaching
Professional Memberships
Canadian Association of Cardiac Prevention and Rehabilitation
College of Kinesiologists of Ontario
American College of Sports Medicine
Ontario Kinesiology Association