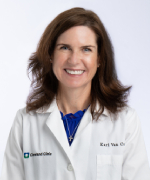 Biography
Kari Van Camp is a Nurse Practitioner at Cleveland Clinic Canada. Ms. Van Camp sees patients in our Express Care service. She has a particular interest in pediatrics, mental health and primary care.
Ms. Van Camp completed a Doctorate of Nursing Practice, along with a Master's of Science in Community Health Nursing and two Post Master's degrees as a Pediatric Nurse Practitioner and as a Family Nurse Practitioner. She also has her certifications in mental health nursing, pediatric mental health nursing and addictions nursing- advance practice. Ms. Van Camp has been in the field of nursing for over two decades and has always been passionate about advocating for improving excellence in her nursing practice by contributing to shaping the health system towards making change to all those she impacts on a daily basis.
Ms. Van Camp has extensive experience caring for the overall health needs of those from diverse cultural backgrounds in a variety of clinical areas, whilst focusing on psychosocial issues, health promotion/ disease prevention, chronic disease management and overall primary health needs. Actively involved in the community, Ms. Van Camp has volunteered her time with countless organizations. She currently holds the role of Adjunct Professor at the University of Toronto and is part of the Chronic Pain Quality Standard Advisory Committee at Health Quality Ontario.
When she's not treating patients, Ms. Van Camp enjoys marathon running, skiing, paddle boarding and spending time with her husband and dog.
Education/Training
Doctorate of Nursing

University of Massachusetts
Nursing
Boston, MA
Post-Masters

Stony Brook University
Pediatric Nurse Practitioner
Stony Brook, NY
Masters of Science

University of Massachusetts
Family Nurse Practitioner
Boston, MA
Masters of Science

D'Youville College
Community Health Nursing
Buffalo, NY
Bachelor of Science

Ryerson Polytechnic University
Nursing
Toronto, ON
Diploma

Humber College of Applied Arts and Technology
Nursing
Toronto, ON
Certifications

National Asthma Care Certificate
International Wound Care Course Certification
CARN-AP, Certified Addictions Registered Nurse-Advanced Practice
C.N.A Certified Psychiatric Mental Health Nursing
Certified Crisis Prevention Instructor
Coronary Care Certificate
Prescription and Management of Controlled Drugs and Substances for Nurse Practitioners Certification
Board Certified Family Nurse Practitioner Certification
PMHS-Certified Pediatric Mental Health NP specialist
Certified Pediatric Nurse Practitioner – Primary Care

Specialty Interests

Pediatrics
Mental health
Primary care

Professional Memberships

Canadian Pediatric Society (CPS)
Canadian Society of Addiction Medicine (CSAM)
Registered Nurses Association of Ontario (RNAO)
American Nurses Credentialing Center (ANCC)
Pediatric Nursing Certification Board (PNCB)
Canadian Nurses Association (CNA)
National Association of Pediatric Nurse Practitioners (NAPNAP)
American Association of Nurse Practitioners (AANP)
Sigma Theta Tau International Nursing member