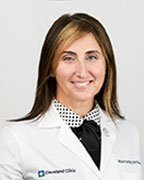 Biography
Marianne Surmann is the Clinical Lead for the Executive Health Program at Cleveland Clinic Canada. Ms. Surmann has over twenty years of experience in both leadership and the nursing field and works closely with patients in the Executive Health Program.
Ms. Surmann obtained her RN in 1993 and went on to complete her Bachelor of Nursing at the University of Victoria in B.C. She has worked in a variety of clinical areas and has shared her expertise with clinicians across Canada.
In her practice, Ms. Surmann fosters a supportive environment for her patients. She works closely with them, providing the tools necessary to make healthy and sustainable lifestyle choices.
When she's not seeing patients, Ms. Surmann enjoys spending time with her family and practicing yoga.
Education/Training
Bachelor of Nursing

University of Victoria
Nursing
Victoria, B.C.
Specialty Interests
Preventive health
Health teaching
Gerontological nursing
Professional Memberships
CNA - Canadian Nurses Association
RNAO - Registered Nurses Association of Ontario
CAG – Canadian Association of Gerontology
ARNBC – Association of Registered Nurses of British Columbia
CARNA – College and Association of Registered Nurses of Alberta
Certifications
ASIST – Applied Suicide Intervention Skills Training
Dementiability – Dementia Training and Certification
ISMP – Institute for Safe Medication Practice