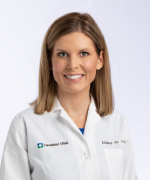 Biography
Lindsey St. Cyr is a Nurse Practitioner at Cleveland Clinic Canada. A Nurse practitioner (NP) is a registered nurse who has met additional education, experience and exam requirements set by the College of Nurses of Ontario. They are authorized to diagnose, order and interpret diagnostic tests, and prescribe medication and other treatments. Although nurse practitioners are technically nurses, they identify as nurse practitioners due to their broader scope of practice.
Ms. St. Cyr obtained her Bachelor of Science in nursing from the University of Tennessee at Martin. She then worked at the Vanderbilt Medical Center as a registered nurse specializing in renal transplant, acute dialysis, nephrology and liver transplant. After 3 years in practice, she decided to complete her Master of Science in nursing (with a focus in family care) at Vanderbilt University. After graduation, she began work as a primary care provider at a family practice, and gained experience in urgent care, long term care psychiatry, and primary care for the VA (Veterans Administration).
Over the years, Ms. St. Cyr has completed specialized training in psychiatry, diabetes, obesity management, hypertension, hyperlipidemia, and adolescent and pediatric medicine. Each year, she attends primary care continuing education conferences all across North America to learn the latest in her field. She has also acted as a clinical preceptor for Vanderbilt University and Middle Tennessee State University to help train other nurse practitioners.
Ms. St. Cyr is passionate about establishing relationships with her patients. She believes in the power of prevention and maintains that healthy food and lifestyle choices are always the best medicine. In her practice, she enjoys managing and treating chronic diseases/conditions because it allows her to track the improvement of a patient's condition.
When she's not seeing patients, Ms. St. Cyr enjoys spending time with her family, both here in Ontario and in Tennessee, and experiencing new cultures through travel, food and Pilates.
Education/Training
Master of Science

Vanderbilt University School of Nursing
Family/Primary Care Nurse Practitioner Specialty
Nashville, Tennessee

Bachelor of Science

University Of Tennessee at Martin
Nursing
Martin, Tennessee
Specialty Interests
Preventive medicine
Diabetes management
Obesity management
Family/Primary care
Professional Memberships
Nurse Practitioner Association of Ontario
Primary Care Nurse Practitioner, American Nurses Credentialing Center
U.S. DEA Registration
Certifications
College of Nurses of Ontario - RN(EC)
Registered Nurse, Tennessee
Advanced Practice Registered Nurse, Tennessee
Basic Cardiac Life Support