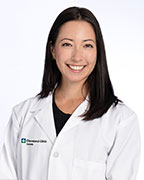 Biography
Alice Sobiesiak is an Athletic Therapist at Cleveland Clinic Canada. Ms. Sobiesiak helps to treat musculoskeletal conditions and injuries using manual techniques, therapeutic exercise, and various modalities. She has a particular interest in athletic injuries as well as treatments relating to the neck, knees, ankles, and back.
Ms. Sobiesiak first obtained a Bachelor in Human Kinetics from the University of Ottawa, before going on to obtain a Bachelor of Applied Health Sciences in Athletic Therapy from Sheridan College. During her studies, Ms. Sobiesiak's achievements were recognized with numerous honours and awards, including the Silver Medal for graduating at the top of her class.
Passionate about the world of athletics, Ms. Sobiesiak is dedicated to helping her patients get back to their top performance level, and tailors their rehabilitation plans to match their individual physical demands. She has been involved with numerous professional organizations and events, including the National Ballet of Canada, the Hamilton Tiger-Cats football team and the Toronto Waterfront Marathon. Previously, she has leant her skills to the Aurora Panthers PWHL Team, the Sheridan College Powerlifting meet and the Varsity Football, Junior Varsity Hockey, and U16 Rugby teams at St. Andrew's College. She is certified as a First Responder with CPR-HCP & AED and has completed her Hockey Trainers (HTCP) Level 1 certification.
When she's not treating patients, Ms. Sobiesiak enjoys spending time with her friends and family, travelling, and staying active through yoga, hiking, and working out.
Education/Training
Bachelor of Applied Health Sciences (Honours)

Sheridan College
Athletic Therapy
Brampton, ON

Bachelor of Human Kinetics (Honours)

University of Ottawa
Human Kinetics
Ottawa, ON
Certifications
First Responder - CPR-HCP & AED
Hockey Trainers (HTCP) - Level 1
Specialty Interests
Athletic injuries
Neck, knee, ankle, back treatments
Professional Memberships
Canadian Athletic Therapists Association
Ontario Athletic Therapist Association