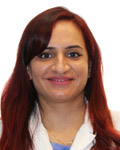 Biography
Sarleen Singh is a Registered Chiropodist at Cleveland Clinic Canada. Ms. Singh has a special interest in treating ingrown toenails and warts, as well as providing general foot care, diabetic foot care, wound care and lower extremity biomechanics including custom-made orthotics.
Ms. Singh first obtained her Bachelor of Medicine/Bachelor of Surgery from Tianjin Medical University in China. She relocated to Toronto to complete her Advanced Diploma in Chiropody from the Michener Institute of Applied Health Sciences at University Health Network. She is a member in good standing with the College of Chiropodists of Ontario, as well as the Ontario Society of Chiropodists.
Ms. Singh is dedicated to working with her patients to help provide relief from their symptoms and improve their quality of life. She has worked in a wide variety of clinical settings, including hospitals, private clinics and community centres. In her practice, Ms. Singh most commonly diagnoses and treats plantar fasciitis, neuromas, Achilles tendonitis and dermatological conditions such as ingrown nails and ganglion cysts.
When she's not treating patients, Ms. Singh enjoys reading, trying new foods and exploring new cultures. She speaks five languages, including Hindi, Punjabi, Urdu and Mandarin.
Education/Training
Advanced Diploma


Michener Institute of Applied Health Sciences at University Health Network
Chiropody
Toronto, ON
Bachelor of Surgery/Bachelor of Medicine

Tianjin Medical University
Tianjin, China

Specialty Interests
Ingrown toenails
General foot care
Diabetic foot care
Wound care
Warts
Lower extremity biomechanics
Professional Memberships
College of Chiropodists of Ontario
Ontario Society of Chiropodists