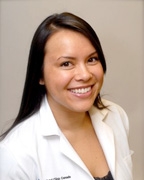 Biography
Jennifer Seto is a Registered Medical Radiation Technologist (MRT) at Cleveland Clinic Canada. As an MRT, she performs diagnostic image testing for the Sports Health, Executive Health and Lifestyle Programs. This includes all general x-rays, mammograms and bone mineral densitometry (BMD) tests.
Raised in Burlington, Ontario, Ms. Seto received a Bachelor of Health Sciences from the University of Western Ontario, followed by a combined degree/diploma in Medical Radiation Sciences from McMaster University/Mohawk College. Ms. Seto completed her training at the Hamilton General Hospital and the Trillium Health Center in Mississauga. She was fortunate to complete an extensive mammography training session at the Cleveland Clinic Breast Center located in Cleveland, Ohio.
In her free time she enjoys playing competitive volleyball and spending time with friends and family.
Education/Training
Bachelor of Sciences

McMaster University
Hamilton General Hospital
Medical Radiation Sciences
Hamilton, ON

Bachelor of Health Sciences

University of Western Ontario
London, ON
Certifications
Level "C" CPR and Standard First Aid Certificates
Specialty Interests
General Radiography – screening examinations, sports injuries
Mammography – screening and diagnostic examinations
Bone Mineral Densitometry – osteoporosis screening and prevention
Professional Memberships
Canadian Association of Medical Radiation Technologists