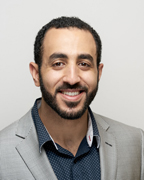 Biography
Mohamed Rezk is a registered dietitian at Cleveland Clinic Canada. He specializes in clinical nutrition and has experience in weight management, diabetes education, pre-diabetes reversal, preventative nutrition, sports nutrition and decreasing high cholesterol and high blood pressure.
Born and raised in Egypt, Mr. Rezk relocated to Waterloo, Ontario to obtain his Bachelor of Science in Biomedical Sciences. He went on to complete his Bachelor of Science in Applied Human Nutrition with a Dietetics Specialization from Mount Saint Vincent University in Halifax, Nova Scotia.
Mr. Rezk is passionate about empowering his patients to take control of their lifestyles. He enjoys working one-on-one with them to focus on behavioural change and establish healthy and sustainable lifestyles. He has been interviewed for the Globe and Mail, Yahoo and has presented his research findings at the Dietitians of Canada conference in Winnipeg.
A big believer in giving back, Mr. Rezk volunteers as a Water Polo coach and a Registered Dietitian with Dietitians of Canada. He has lent his experience to community events for diabetes and contributed website content for Middle Eastern clients in nutrition counselling. He also volunteers his time to work with students and low-income families to help improve their lifestyles through plan design and nutrition counselling.
When he is not seeing patients, Mr. Rezk spends his time coaching water polo (ages 12-15) with the Toronto Golden Jets, a tier 1 Canadian club in water polo. He has played water polo since age 11. Mr. Rezk is also fluent in Arabic.
Education/Training
Bachelor of Science (Honours)

Mount Saint Vincent University
Applied Human Nutrition
Dietetics Specialization
Halifax, Nova Scotia
Bachelor of Science (Honours)

University of Waterloo
Biomedical Sciences
Waterloo, ON
Specialty Interests
Weight management
Preventative nutrition
Pre-diabetes and diabetes
Hyperlipidemia
High blood pressure
Family nutrition
Heart health
Sports nutrition
Digestive health
Certifications
Dysphasia Management
Critical Care in Nutrition
Breastfeeding Making a Difference (MaD training)
Professional Memberships
College of Dietitians of Ontario
Dietitians of Canada