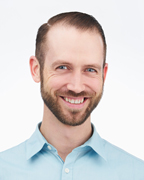 Biography
Chris Peralta is a physiotherapist at Cleveland Clinic Canada.
Mr. Peralta graduated with his Master of Science in Physical Therapy from the University of Toronto and has worked in sports medicine his entire career. He is a certified strength and conditioning specialist (CSCS), a level 2 manual therapist, a certified FitForeGolf therapist and specializes in movement pattern assessment. With these skills, Mr. Peralta is able to combine aspects of manual therapy, exercise, movement analysis and education to help achieve patient goals.
In his practice, Mr. Peralta concentrates on the root cause of each patient's symptoms to allow for them to monitor and modify symptoms themselves. While assessing all severity and type of conditions, his personal interests are directed towards post-surgical rehabilitation and sports injuries. Specific treatment techniques include tissue and joint mobilization, strengthening, stretching and movement retraining.
Mr. Peralta has provided care for professional performances such as Young Frankenstein, Little House on the Prairie and Mary Poppins as well as organizations such as the National Ballet of Canada and the Pan American Games. He has been head trainer for the Metro Toronto Wildcats and Northern Secondary Red Knights football teams.
When he's not working with patients, Mr. Peralta is pursuing his Masters of Health Science in Health Administration. In his leisure time he plays golf, softball and guitar.
Education/Training
Masters of Health Science (Candidate)

University of Toronto
Health Administration

Masters of Science

University of Toronto
Physical Therapy
Toronto, ON

Bachelor of Science

Dalhousie University
Animal Science
Halifax, NS
Specialty Interests
Post-surgical rehabilitation
Sports injuries
Sports-related movement analysis
Certifications
FitForeGolf levels 1-5
Manual Therapy levels 1-2
SFMA level 1
University of Toronto status-only academic appointment
Professional Memberships
National Strength and Conditioning Association (NSCA)