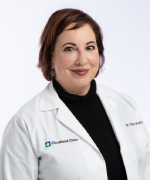 Biography
Tanya Pentelichuk is a Concierge Medicine Physician at Cleveland Clinic Canada. Dr. Pentelichuk has more than 25 years of experience in the field of medicine, with expertise in family medicine, women's health, occupational health, preventative health, and psychological health.
Dr. Pentelichuk obtained her Doctor of Medicine from the University of Saskatchewan before going on to complete her residency in Family Medicine. Dr. Pentelichuk has obtained additional certification in Medical Cognitive Behavioural Therapy, and acts as a Marine Medical Examiner for Transport Canada, as well a Norwegian Maritime Authority Medical Examiner and a Marine Medical Examiner for Oil & Gas UK.
Dr. Pentelichuk takes a collaborative approach to leadership. She has implemented numerous processes to optimize the delivery of care at her workplaces and has been involved in extensive training, teaching and mentoring of her colleagues and other healthcare providers. Her drive for continuous improvement has led to many incredible patient outcomes and she is dedicated to working with her patients to listen to their concerns and offer treatment and guidance based on her clinical expertise.
When she's not treating patients, Dr. Pentelichuk enjoys spending time with her family, gardening, painting and working on her farm. She is learning how to dirt bike and snowmobile.
Education/Training
Residency

University of Saskatchewan
Family Medicine
Regina, SK

Doctor of Medicine

University of Saskatchewan
Regina, SK

Certifications
Medical Cognitive Behavioural Therapy
Marine Medical Examiner Transport Canada
Norwegian Maritime Authority Medical Examiner
Marine Medical Examiner Oil&Gas UK
Specialty Interests
Family medicine
Women's health
Occupational health
Preventative health
Psychological health
Professional Memberships
College of Physicians and Surgeons of Ontario
College of Family Physicians of Canada