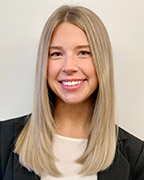 Biography
Kasia Miko is a Registered Dietitian at Cleveland Clinic Canada. Ms. Miko has experience providing nutritional care to patients in a wide variety of areas, including diabetes, heart health, weight management, mindful eating, bowel health and healthy eating.
Ms. Miko obtained her Bachelor of Applied Science from Ryerson University before going on to pursue her Masters of Health Science in Nutrition Communication. Ms. Miko takes a holistic approach to her treatments and believes in comprehensive care, always taking into account the individual as a whole. She has a particular interest in preventative health, mindful eating, culinary arts, chronic disease management and sports nutrition. During her placement, she worked with Olympic athletes at the Canadian Sports Institute of Ontario and Athletics Canada.
Ms. Miko is dedicated to helping her patients create realistic and personalized strategies that fit their lifestyle and enable them to meet their health goals. She strives to empower them by providing the most up-to-date nutrition knowledge and the skills to make healthy choices easier.
Ms. Miko is passionate about group education, and has developed and led numerous grocery store tours and cooking workshops. She has also presented her research on the demographics of Canada's aging and growing population at the Dietetic Knowledge Exchange Conference. Eager to give back to her community, she has volunteered at Diabetes Canada and as a Community Outreach Educator at the National Eating Disorder Information Centre (NEDIC).
When she's not seeing patients, Ms. Miko enjoys being outdoors and being active with friends. She loves running, hiking, soccer, curling and exploring new parts of the city or adventuring to other cities in Ontario. She also enjoys trying out new recipes, baking and playing boardgames. She is fluent in Polish.
Education/Training
Masters of Health Science (Candidate)

Ryerson University
Nutrition Communication
Toronto, ON
Bachelor of Applied Science (Hons)

Ryerson University
Nutrition
Toronto, ON
Bachelor of Arts (Hons)

McMaster University
Psychology
Hamilton, ON
Certifications
Population and Public Health Needs Assessment, Dietitians of Canada — 2018
Media Training Bootcamp, Sue Mah RD — 2017
Motivational Interviewing and Coaching Skills for Healthcare Professionals (Levels 1 and 2) — 2017
Tri-Council Policy Statement: Ethical Conduct for Research Involving Humans — 2017
Accessibility for Ontarians with Disabilities Act (AODA) — 2017
Food Handler Certification — 2015
Culinary Knife Skills (Level 1), Jamie Oliver Recipease Cookery School
Specialty Interests
Preventative health
Mindful eating
Sports nutrition
Culinary arts
Chronic disease management
Professional Memberships