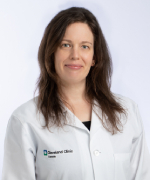 Biography
Marguerite Mérey is a Registered Massage Therapist at Cleveland Clinic Canada. Ms. Mérey practices with a patient-centered and holistic focus, spending time listening and helping her patients achieve greater health through both treatment time and self-care/remedial exercises.
Ms. Mérey obtained her Bachelor of Physical Health and Education (BPHE) from the University of Toronto before travelling to Ireland to complete a Diploma in Massage and Holistic studies at Senior College Dun Laoghaire. During this time she completed training in sports massage, reflexology, aromatherapy, and reiki which led to a role as a Massage Therapist in Ireland. Following this experience, she returned to Toronto to complete her Diploma in Massage Therapy from Kikkawa College in Toronto.
Practicing full-time since 2013, Ms. Mérey enjoys incorporating her skill set into each treatment, as needed. Most recently, she completed a 120 hour course in Manual Lymphatic Drainage (MLD) through Dr. Vodder School International and is a certified Combined Decongestive Therapist (CDT). Through both MLD and CDT techniques she can treat people who present with lymphedema. In addition, MLD is helpful for a variety of conditions - sinusitis, arthritis, repetitive strain injury, injury healing and edema (swelling) reduction and stress reduction. Alongside these conditions she also has experience in treating clients with neurological conditions (post-stroke, multiple sclerosis, Guillain-Barré syndrome) and post-orthopaedic surgery clients.
In her spare time she enjoys incorporating movement and exercise through cycling, swimming, running and weight training. Her creative interests include photography and embroidery.
Education/Training
Diploma

Kikkawa College
Massage Therapy
Toronto, ON
Diploma

Senior College Dun Laoghaire
Holistic Studies
Dublin, Ireland

Bachelor of Science

University of Toronto
Physical Health and Education
Toronto, ON
Certifications
Manual Lymphatic Drainage (MLD) - Dr. Vodder School
Certified Combined Decongestive Therapist (CDT)
Reflexology
Aromatherapy
Specialty Interests
Lymphedema
Repetitive strain injuries
Orthopaedic conditions
Sports injuries
Deep tissue
Professional Memberships
College of Massage Therapists of Ontario
Registered Massage Therapists Association of Ontario
Lymphedema Association of Ontario