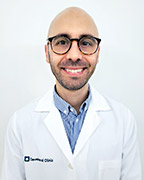 Biography
Luke McManus is a Physiotherapist at Cleveland Clinic Canada. Mr. McManus has extensive experience in musculoskeletal clinical practice and has a keen interest in neck pain, neck-related headaches, low back pain, sports rehabilitation and injury prevention. He also enjoys working with athletes of all levels to prevent overload injuries.
Born and raised in Perth, Australia, Mr. McManus had an early interest in sports and the human body. He channeled this passion into a Bachelor of Science in Physiotherapy from the Curtin University of Technology before going on to complete the Master of Manual Therapy program at the University of Western Australia. Mr. McManus is a Fellow of the Canadian Academy of Manipulative Physiotherapy.
In his practice, Mr. McManus regularly uses manual therapy techniques such as mobilization with movement and muscle energy techniques. His clinical research has been published in the Journal of Occupational Rehabilitation and the Musculoskeletal Physiotherapy Australia Magazine.
Mr. McManus is passionate about clinical mentoring. He founded a consulting business in Australia to provide professional development and mentoring services for physiotherapists in musculoskeletal and sports clinical settings. He helped to provide observation and feedback, second opinion assessments, case studies, manual therapy training, exercise prescription and career planning.
When he's not treating patients, Mr. McManus likes to watch basketball and cheer on the Toronto Raptors. He also is passionate about meditation practice.
Education/Training
Masters

University of Western Australia
Master of Manual Therapy
Perth, Australia
Bachelor of Science

Curtin University of Technology
Physiotherapy
Perth, Australia
Certifications
GLA:D® education and exercise program for knee and hip OA
CAMPT-certified (Canadian Academy of Manipulative Physiotherapy
Specialty Interests
Spine disorders
Sports rehabilitation
Injury prevention
Professional Memberships
College of Physiotherapists of Ontario
Canadian Physiotherapy Association
Ontario Physiotherapy Association
Fellow of the Canadian Academy of Manipulative Physiotherapy
Australian Health Practitioner Regulation Agency
Australian Physiotherapy Association (Musculoskeletal Physiotherapist)
Musculoskeletal Physiotherapy Australia (APA National Group)