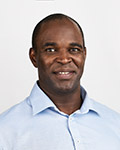 Biography
Stephen Mckenzie is a Personal Trainer at Cleveland Clinic Canada and a certified Level 4+ Master Trainer. Mr. Mckenzie has decades of experience in the field of training, postural correction and post-surgical rehabilitation.
Mr. Mckenzie has been fascinated by the science of movement for as long as he can remember. He decided to turn his passion into a career and obtained a Bachelor of Science in Kinesiology from the University of Guelph. A lifelong learner, Mr. Mckenzie is always searching for new information that can allow his patients to live a pain free and energetic lifestyle. He holds both a Can Fit Pro certification as well as a functional movement screening (FMS) certification and has completed numerous mental coaching courses.
Mr. Mckenzie is particularly interested in strength and conditioning and has personally competed in six word championship power lifting competitions. He is a nine time provincial power lifting champion, a seven time national champion and he brought home a silver medal at the 2002 Pan Am Games in Chicago.
When he's not training patients, Mr. Mckenzie enjoys playing music, fishing and of course, working out.
Education/Training
Bachelor of Science (Honours)

University of Guelph
Kinesiology
Guelph, ON
Bachelor of Arts

University of Guelph
Performance Jazz Saxophone
Guelph, ON
Certifications
Can Fit Pro certification
Resistance training specialist
FMS - Functional movement screening certification
Strength and muscle testing certification from Dr. Kinakin
Master CPR training
Mental coaching courses
Injury prevention and joint maintenance- Swiss
Upper and lower body muscle testing
Specialty Interests
Strength and Conditioning
Postural correction
Post-surgical rehab