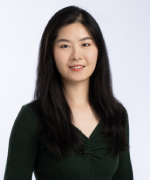 Biography
Yushu Mao is an Exercise Physiologist at Cleveland Clinic Canada. Ms. Mao is experienced in providing exercise rehabilitation and education programs for a wide range of conditions and age groups. She has a particular interest in post-COVID rehabilitation, chronic disease prevention and management, postural, movement pattern and functional training, musculoskeletal injuries rehabilitation, concussion management, and pre and post-operative rehabilitation.
Ms. Mao first obtained her Bachelor of Science in Kinesiology and Exercise Science from the University of Waterloo. She went on to complete her Master of Professional Kinesiology at the University of Toronto, during which time she developed a home-based osteoarthritis program as graduation project. She has since worked in a wide variety of clinical areas, including sports medicine, complex care, geriatric care, and diabetic care.
A firm believer in exercise as medicine, Ms. Mao strives to guide and empower individuals to move well and to have the confidence and competence to manage their own health using exercise as a tool. She has held several volunteer roles in her community, including Well-Fit Centre Rehab, where she worked with breast cancer survivors and patients with spinal cord injuries and hip replacements. She also volunteered at Exercise with Dementia, where she assisted with cognitive training, and led resistance exercises, agility and balance training.
When she's not treating patients, Ms. Mao enjoys hiking, playing squash, dancing, and rock climbing with friends.
Education/Training
Master of Professional Kinesiology

University of Toronto
Toronto, ON
Bachelor of Science

University of Waterloo
Kinesiology and Exercise Science
Waterloo, ON
Certifications
First Aid with CPR-C
CSEP CPT
Registered Kinesiologist
COPD Management for Exercise Professionals
Specialty Interests
Post-COVID rehabilitation
Chronic disease prevention and management (ex. osteoarthritis, osteoporosis, COPD, hypertension, etc.)
Postural, movement pattern and functional training
Musculoskeletal injuries rehabilitation
Concussion management
Pre and post-operative rehabilitation
Professional Memberships
Ontario Kinesiology Association (OKA)