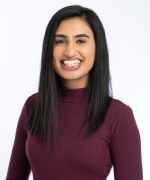 Biography
Nadiya Mansuri is an Exercise Physiologist at Cleveland Clinic Canada. Ms. Mansuri has many years of experience providing evidence-based health and performance-related physical activity and promoting healthy, active lifestyles. She has a strong interest in strength training and exercise, fitness assessments, exercise counselling, cardiac rehab and functional mobility practices.
Ms. Mansuri first obtained her Bachelor of Science in Kinesiology and Health Science from York University before going on to complete her Masters of Fitness Science from York University. She has since completed additional certification in Fitness Consulting & Exercise Counselling at York University as well as Cardiovascular Rehabilitation Foundations Certification from the International Council of Cardiovascular Prevention and Rehabilitation.
Ms. Mansuri is highly skilled at designing and implementing personalized exercise programs for patients of all ages and fitness levels. She is dedicated to helping patients reach their goals through personal evaluations and fitness assessments, functional movements, strength training, and cardiovascular exercise, and enjoys providing her patients with evidence-based fitness, lifestyle, and nutrition recommendations to complement their fitness goals.
When she's not seeing patients, Ms. Mansuri enjoys spending time outdoors, hiking, skating, snowboarding and playing soccer and volleyball.
Education/Training
Masters

York University
Fitness Science
North York, ON
Bachelor of Science

York University
Kinesiology and Health Science
North York, ON
Certifications
Certified Exercise Physiologist (CEP) - Health & Fitness Federation of Canada
Fitness Consulting & Exercise Counselling Certificate - York University
Cardiovascular Rehabilitation Foundations Certificate - (ICCPR)
Specialty Interests
Strength training and exercise
Fitness assessments
Exercise counselling
Cardiac rehab
Functional mobility practices
Professional Memberships
Health and Fitness Federation of Canada (HFFC)
International Council of Cardiovascular Prevention and Rehab