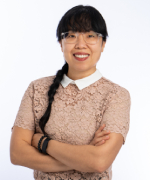 Biography
Eva Lee is a registered dietitian with Cleveland Clinic Canada's Executive Health program. Ms. Lee is passionate about helping her patients make healthier food choices and personalizing strategies to fit their lifestyles. She is particularly interested in family nutrition, food education, healthy cooking, preventative health and nutrition, diabetes nutrition and digestive health.
Ms. Lee has always been interested in food - growing it, making it, eating it. After completing her Bachelor of Arts at Ryerson University, she decided to turn her interest in health and wellness into a career. She obtained her Bachelor of Science in Food and Nutrition from the University of Western Ontario and completed her dietetic internship at Aramark Canada.
She believes that a healthy lifestyle is about finding the right balance - work, personal life, physical activity, nutrition- and understands that this balancing point is different for everyone. Her nutritional experience spans a variety of areas, including critical care (cardiovascular, intensive care, surgical health), outpatient diabetes, long-term care and community nutrition. Ms. Lee enjoys giving back to her community and has volunteered at the 2015 Toronto Pan Am Games, the Parkwood Institute for Veterans Care and the London Community Resource Centre.
When she's not seeing patients, Ms. Lee enjoys cycling, rock climbing, sampling the various international cuisines of Toronto (then attempting to create healthier-at home versions), spending time with her rescue dog and exploring farmer's markets.
Education/Training
Dietetic Internship

Aramark Canada
Foods and Nutrition
Toronto, ON

Bachelor of Science

University of Western Ontario
Foods and Nutrition
London, ON

Bachelor of Arts

Ryerson University
Arts and Contemporary Studies
Toronto, ON
Specialty Interests
Family nutrition
Food education
Healthy cooking
Preventative Health and Nutrition Throughout the Lifespan
Diabetes Nutrition
Digestive Health
Professional Memberships
Dietitians of Canada
College of Dietitians of Ontario