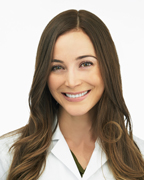 Biography
Siobhan Karam is a physiotherapist at Cleveland Clinic Canada. Ms. Karam largely focuses her physiotherapy practice in concussion management and rehabilitation. She partakes in clinical concussion research and works closely with organizations such as One Voice, advocating global concussion awareness and advancement. She is on the Sport Physiotherapy Canada Concussion Committee and serves as Membership Development Coordinator for Sport Physiotherapy Ontario. Ms. Karam is the founder and CEO of Concussion Lab Inc., a global concussion medical supply company.
Ms. Karam graduated from the University of Ottawa with a Master of Health Sciences in Physiotherapy/Maîtrise en Sciences de la Santé en physiothérapie. Prior to pursuing her degree in Physiotherapy, Ms. Karam attended the University of Windsor where she completed a Bachelor of Movement Science in Human Kinetics. She is currently working towards completing her credentials in Manipulative Therapy, and holds a certificate in Sports Physiotherapy.
A strong believer in exercise as medicine, Ms. Karam is passionate about working with her patients to customize routines that work for their lifestyles and abilities. She has an extensive background as a national and international level figure skater with 15 consecutive years of competitive experience in the discipline of ice dance. She continues to stay involved in the sport of figure skating as a nationally certified NCCP Ice Dance coach and Skate Canada Integrated Sports Team Physiotherapist. She is a member of the medical team at a multitude of Skate Canada and International Skating Union events throughout the competitive season. She previously acted as a physiotherapist for the PanAmerican Games.
Ms. Karam is fluent in both English and French. When she's not seeing patients, she stays active by skiing, playing tennis, running and cycling. She also enjoys travelling.
Education
Master of Health Sciences

University of Ottawa
Physiotherapy
Ottawa, ON

Bachelor of Human Kinetics

University of Windsor
Movement Science Major: Honours with Great Distinction
Windsor, ON
Certifications
Diploma of Advanced Orthopaedic Manual and Manipulative Physiotherapy, Level III
Sport Physiotherapy Canada Certificate Level; First Responder
Acupuncture Foundation of Canada Institute AA2
Advanced Applications Workshop for Shockwave & Musculoskeletal Ultrasonography
Lyn Watson Level 1
New Advances in Hip Rehabilitation
Concussion Rehabilitation - Management of Post-Concussion Syndrome
Acute Management of Sport-Related Concussion
Speciality Interests
Concussion management
Sports-related injuries (especially figure skating, dance, gymnastics)
Improving motor control
Professional Memberships
Canadian Physiotherapy Association - Sport Physiotherapy Canada and Orthopaedic Divisions