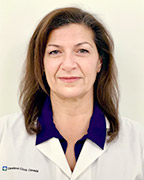 Biography
Vaska Jones is a Nurse Practitioner at Cleveland Clinic Canada. Ms.Jones has extensive experience as a Nurse Practitioner within the cardiac health setting. She also has experience in primary health care for patients of all ages, including physical exams, well baby and child visits, immunizations, acute episodic care, chronic disease management, screening, counseling, and health education.

Ms. Jones is truly passionate about the field of nursing. She first obtained a Diploma in Nursing before going on to obtain both a Bachelor of Science and a Master of Science in nursing. A strong desire to learn more led her to pursue a Post-Master Certificate as an Acute Care Nurse Practitioner as well as a Certificate as a Primary Health Care Nurse Practitioner. She is currently on staff at Ryerson University as the Year 2 Lead for the Daphne Cockwell School of Nursing Collaborative Program.
Ms. Jones is particularly interested in preventative care, cardiovascular health, and women's health. She previously held the role of Senior Research Associate in the Heart Function/Transplant Team at The University Health Network. An avid researcher, Ms. Jones' research has been published in numerous medical and scientific journals, including the Journal of Cardiovascular Nursing and the Canadian Journal of Nursing Leadership. She has received a numerous awards for her clinical work and her research.
When she is not seeing patients, Ms. Jones enjoys spending time on her sailboat with her husband.
Education/Training
Certificate

Ryerson University, Daphne Cockwell School of Nursing
Primary Health Care Nurse Practitioner
Toronto, ON
Post-Master Certificate

University of Toronto School of Nursing
Acute Care Nurse Practitioner
Toronto, ON
Master of Science

D'Youville College School of Graduate Studies
Nursing
Buffalo, NY
Bachelor of Science

D'Youville College
Nursing
Buffalo, NY
Diploma

George Brown College
Nursing
Toronto, ON
Certifications
Primary Health Care Nurse Practitioner
Acute Care Nurse Practitioner
Specialty Interests
Preventative care
Cardiovascular health
Women's health