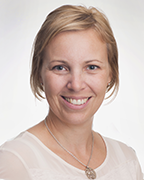 Biography
Jennifer Ingram is a Registered Massage Therapist (RMT) with the Sports Health team at Cleveland Clinic Canada. Jennifer has always been passionate and curious about how the body works and enjoys the immense benefits that massage therapy can provide to clients.
Ms. Ingram was born and raised in Toronto where she completed her Bachelor of Science in Psychology at the University of Toronto. She went on to pursue an Honours Diploma in Massage Therapy from Kikkawa College and completed specialized courses in Somatic Stretch, Rotator Cuff Release, Prenatal Massage, Craniosacral Therapy and Sacroiliac Joint Dysfunctions. Having practiced as a massage therapist for many years, Ms. Ingram has extensive experience in treating a range of ailments including sports related injuries, scar tissue, headaches, low back pain and many other chronic conditions including sprains, strains, and tendonitis. She has also been a guest speaker at the Trimesters Infant Massage Course. Ms. Ingram's massage treatments include Swedish massage, myofascial release, trigger point release, craniosacral techniques, and IASTM myo-bar myofascial tool.
In her spare time, Jennifer likes to spend time outdoors with her two young boys and find quiet time for reading and an occasional yoga practice.
Education/Training
Honours Diploma

Kikkawa College
Massage Therapy
Toronto, ON

Bachelor of Science

University of Toronto
Psychology
Toronto, ON
Certifications
Rotator Cuff Release I
Craniosacral Therapy
Specialty Interests
Myofascial release
Sports Massage
Craniosacral Therapy
Prenatal Massage
TMJ dysfuncation
Professional Memberships
College of Massage Therapists of Ontario
Registered Massage Therapists Association of Ontario