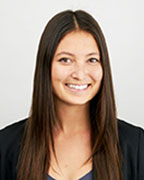 Biography
Landon Hong is a Registered Dietitian at Cleveland Clinic Canada. Ms. Hong is dedicated to helping her patients achieve optimal health and well-being through a comprehensive health approach, integrating evidenced-based nutritional science and individualized care.
A keen interest in food and nutrition led Ms. Hong to pursue her Bachelor of Science in Nutrition and Dietetics at the University of Western Ontario. She went on to obtain her Masters of Public Health from the University of Toronto's Dalla Lana School of Public Health, specializing in sports nutrition, health promotion, and programs and strategies.
Ms. Hong has experience treating a wide variety of dietary issues, including irritable bowel syndrome, type 2 diabetes, chronic disease management, weight management, and has provided coaching for general healthy eating strategies. She has led educational sessions and programs for the University of Toronto Varsity Blues athletes and various sports teams in the Toronto area. In her practice, she strives to provide patients with the knowledge, skills, and solutions to navigate their food environments and optimize their nutritional intake. She truly enjoys helping her patients reframe their relationships with food and build sustainable foundations to achieve their health and performance goals.
Interested in giving back to her community, Ms. Hong has volunteered her time with the Alzheimer Society of London & Middlesex's Food for Thought Program, Grey Bruce Health Services, and has acted as a Nutrition Speaker Ambassador for FitSpirit – Girls in Motion.
When she's not treating patients, Ms. Hong enjoys staying active with volleyball, soccer, hiking and cross country skiing. She also loves to travel and explore new countries.
Education/Training
Masters of Public Health

University of Toronto
Dalla Lana School of Public Health
Toronto, ON

Bachelor of Science (Hons)

University of Western Ontario
Nutrition and Dietetics
London, ON
Specialty Interests
Sports nutrition
Disease prevention
Mindful eating
Professional Memberships
Dietitians of Canada
College of Dietitians of Ontario