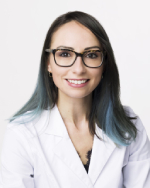 Biography
Dominique Homza is a Nurse Practitioner at Cleveland Clinic Canada. Ms. Homza has spent many years as a family nurse practitioner, diagnosing and treating common conditions, providing screenings, counseling, and prescribing medications, therapies, and interventions. Ms. Homza has experience in a wide variety of clinical areas, including intensive care, chronic disease management (specifically ear, nose and throat), primary care and urgent care.
Ms. Homza received her Bachelor of Science in Nursing from the West Chester University of Pennsylvania before going on to complete her Master of Science in Nursing from Wilmington University in New Castle, Delaware. She has since completed additional certification in CPR and AED, Advanced Cardiac Life Support, Pediatric Advanced Life Support, and National Institute of Health Stroke certification.
Ms. Homza is passionate about healthcare equity, having observed how socio-economic factors, specifically education, affect disease etiology, morbidity, and progression. She is dedicated to working with her patients to help educate them and keep them motivated on their health journeys. During the COVID pandemic, she worked in the COVID intensive care unit providing medical support for ventilated patients and patients suffering from COVID-related kidney failure.
When she's not treating patients, Ms. Homza enjoys skiing, knitting and interior decorating. She is bilingual in French and English.
Education/Training
Master of Science

Wilmington University
Nursing
New Castle, DE

Bachelor of Science

West Chester University of Pennsylvania
Nursing
West Chester, PA
Certifications
CME NRCME Certified for DOT Physicals
CPR and AED Certified (BLS)
ACLS Certified
PALS Certified
NIH Stroke Certified
Specialty Interests
Health education
Health management
Healthcare access
Professional Memberships
College of Nurses of Ontario