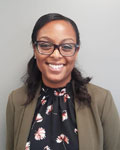 Biography
Elyse Gordon is a Certified Ergonomic Specialist. Ms. Gordon uses her specialized skills to conduct ergonomic assessments and make necessary workstation modifications to help her patients live and work pain-free.
Ms. Gordon obtained her Bachelor of Science from York University before going on to complete her Master of Science in Kinesiology at Western University with a specialization in Exercise Physiology. During her time at Western, Ms. Gordon acted as a Graduate Teaching assistant to lead and supervise classes, tutorials and laboratories.
Ms. Gordon is passionate about empowering her patients to improve their well-being through education, resources and through simple lifestyle modifications. She has years of experience in clinical rehabilitation and injury prevention as well as cognitive impairment and mental health research. In her practice, she most commonly treats musculoskeletal and repetitive strain injuries, and incorporates modalities such as ultrasound, IFC, TENS and taping techniques.
When she's not treating patients, Ms. Gordon enjoys playing soccer, horseback riding and playing the piano.
Education/Training
Master of Science

The University of Western Ontario
Kinesiology
London, ON
Bachelor of Science

York University
Kinesiology and Health Science
North York, ON
Certifications
Certified Ergonomics Specialist designation (CES)
First Aid & CPR Level C Certification
Certified Sigvaris® Fitter for Compression Therapy of Chronic Venous Disorders
Custom Orthotic Certification
Workplace Hazardous Materials Information System (WHMIS) certification
Specialty Interests
High level sports therapy
Sports injuries
Professional Memberships
College of Kinesiologists of Ontario (COKO)
Ontario Kinesiology Association (OKA)